by Bernd Debusmann Jr.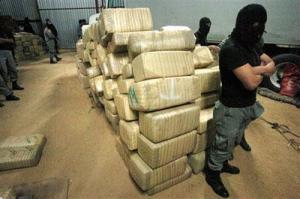 Mexican drug trafficking organizations make billions each year smuggling drugs into the United States, profiting enormously from the prohibitionist drug policies of the US government. Since Mexican president Felipe Calderon took office in December 2006 and called the armed forces into the fight against the so-called cartels, prohibition-related violence has killed around 40,000 people, including more than 15,000 last year. The increasing militarization of the drug war and the arrest or killing of dozens of high-profile drug traffickers have failed to stem the flow of drugs -- or the violence -- whatsoever. The Merida initiative, which provides $1.4 billion over three years for the US to assist the Mexican government with training, equipment and intelligence, has so far failed to make a difference. Here are a few of the latest developments in Mexico's drug war:
Friday, November 18
In Tijuana,
$15 million -- thought to belong to the Sinaloa Cartel -- was confiscated
[15]
from a safe house. Six kilos of cocaine and four weapons were also found during the army raid, although no arrests were made.
Monday, November 21
In Ciudad Acuna, Coahuila,
three police officers were kidnapped
[16]
while on patrol and executed.
In Harris County, Texas, a
controlled-delivery by police officers attempting to catch a drug shipment
[17]
went awry when suspected Zetas cut off and shot dead a truck driver who had secretly been working with the authorities. A nearby Sheriff's deputy was also wounded, possibly by friendly fire in the chaos. Four men, three of whom are Mexican citizens, were taken into custody and charged with capitol murder. It is still unclear if the men were targeting the informant or attempting to rip off his 300-pound load of marijuana.
Tuesday, November 22
In Ciudad Juarez,
two police officers were killed
[18]
while riding in an unmarked car. Authorities recovered 44 bullet casings at the scene.
Wednesday, November 23
In Sinaloa,
at least 20 people were killed in several incidents.
[19]
In Culiacan, 13 people were found dead inside two vehicles which had been set fire in two different locations. Near Guasave, three men were shot and killed. In the municipality of Mocorito, four people were murdered. Mexican media has speculated that at least some of the killings may be related to a fight between the Sinaloa Cartel and a faction of the Beltran-Leyva Organization.
Thursday, November 24.
In Tamaulipas,
the army announced that a large weapons cache and almost two tons of marijuana were captured
[20]
during a series of operations in the city of Miguel Aleman, across the Rio Grande from Starr, Texas. The weapons cache included a rocket launcher and ten explosive devices, including pipe bombs. Miguel Aleman is currently controlled by a faction of the Gulf Cartel.
In Guadalajara,
26 men were found bound, gagged, executed and dumped in three vehicles.
[21]
Many of the men had been asphyxiated, and some appear to have been shot. Notes left written on the victims and a banner left at one of the crime scenes suggest that the killings were carried out by the Zetas and by members of an allied organization, the Millenium Cartel. Some Mexican media outlets have speculated that the killing is in response to the September dumping of 35 men, many purportedly Zetas killed by the Sinaloa Cartel.
Friday, November 25
In the Hague,
Mexican activists filed a war crimes complaint
[22]
against Mexican President Felipe Calderon. According to the coalition behind the complaint, Mexican security forces have been involved in approximately 470 cases of human rights violations. The complaint filed in the Netherlands also mentions crimes committed by drug cartels, and specifically mentions Sinaloa Cartel boss Joaquin "El Chapo" Guzman. The Mexican government immediately denied the accusations.
In Mexico City,
the city's police chief announced that an investigation
[23]
would take place to determine the circumstances behind a journalist's video, which shows a police officer dunking a man's head into a bucket following a firefight between gunmen and police in the crime-ridden neighborhood of Tepito.
In Matamoros,
the son of a deceased Gulf Cartel boss was captured.
[24]
Antonio Ezequiel "El Junior" Cardenas Guillen, 23, is the son of Antonio Ezequiel Cardenas Guillen Sr., "Tony Tormenta," who was killed in a firefight with Marines in November 2010. El Junior was arrested with four associates -- including two suspected cartel accountants -- as he left a party.
Saturday, November 26
In Nuevo Leon,
three alleged Zetas suspected of involvement in the July killing of two men who served as bodyguards for the state's governor were arrested
[25]
during a traffic stop. Authorities said the men also confessed to four other killings, three of whom were police officers murdered in May.
In the city of Chihuahua,
two men and a woman were shot and killed.
[26]
The two men tried run away after their car was cut off by gunmen, but were shot as they ran. The female was killed in the automobile. Police have no leads in the case.
Monday, November 28
In Ciudad Juarez,
a four-year-old boy was shot and killed
[27]
while playing outside a neighbor's house. Alan David Carrillo was playing with several other children outside the home when it was sprayed with automatic weapons. He was rushed to a hospital but died there shortly after arriving.
In Hermosillo, Sonora
, a prominent member of Mexico's Movement for Peace and Justice and Dignity was shot and killed
[28]
. Nepomuceno Moreno, 56, was shot at least seven times by a gunman in a passing car. Last year, Moreno had accused hooded police officers of kidnapping his 18-year old son, who was never seen again. For their part, the Sonora Attorney General's office has said that the principal line of investigation in the case is that Moreno was somehow involved with organized crime groups. In 1979, he was arrested in Arizona for heroin smuggling and possession, and is also said to have been involved in more recent criminal activity.
[Editor's Note: We have been conservatively estimating Mexican drug war deaths this year after El Universal quit publishing a box score. As of mid-November, we had estimated 8,100 deaths so far this year, but in light of new figures

[29]

have revised that figure upward by about 3,000 deaths. Even that figure is an estimate, no more, until there is some official toll reported.]
Total Body Count for 2007 (approx.): 4,300
Total Body Count for 2008 (approx.): 5,400
Total Body Count for 2009 (approx.): 9,600
Total Body Count for 2010 (official): 15,273
Total Body Count for 2011 (approx.): 11,300
TOTAL: > 45,000