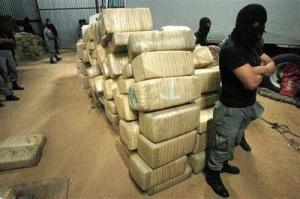 Hardly a day goes by without another report of some heinous prohibition-related violence in Mexico, but a new report suggests that the killings may have peaked and are leveling off -- albeit at horrendous levels. According to the
Latin American Herald Tribune
[13]
, the report, "The Effect of Violence in Mexico on Migration and Immigration Policy," by researchers at the University of San Diego's Trans-Border Institute, was presented at a discussion on the topic last week in San Diego.
The report put this year's drug war death toll in Mexico at just under 11,000 so far, meaning that if current trends continue until year's end, the body count would be significantly lower than the more than 15,000 the Mexican government says were killed last year.
[Editor's Note: Our weekly Mexico Drug War Update has conservatively estimated this year's death toll at just under 9,000 so far, but we will revise it upward in accordance with the figures from this research.]
The report, which is based on Mexican media sources, put the death toll as of November 4 at 10,933. The official toll for 2010 is 15,273. Since President Felipe Calderon sent thousands of soldiers and federal agents out to do battle against the cartels in December 2006, more than 45,000 people have been killed.
"The figures for this year are still quite bad, with more than 10,000 people killed," said Institute director David Shirk, adding that unlike last year, there was no year-to-year increase over the previous year. Drug war killings jumped 20% between 2009 and 2010, he noted.
Shirk cited a decrease in killings in Ciudad Juarez, where in 2009 one-third of the nation's killings occurred, as well as a new accommodation between rival traffickers in Tijuana.
"Violence in Tijuana peaked in 2008 and 2009. Now presumably, after drug traffickers realized that violence was bad for business, there's a pact between the Sinaloa cartel and the remnants of the Tijuana (mob), with the former gaining influence, and that's pushed the violence to the east of the city," Shirk said.
That "Tijuana model" could be adopted in other Mexican cities, but that would require turning away from Calderon's frontal assault on the cartels, Shirk said. "That would mean all the death and violence has served no purpose, which is an unfortunate and cynical vision and a great tragedy if they're unable to interrupt the way the cartels conduct their business," he said.
Mexico isn't the only country that needs to change its policies, Shirk said. The US should legalize marijuana because enforcing its prohibition eats up too many law enforcement and prosecutorial resources even though it only accounts for 15-20% of cartel revenues, he said.