by Bernd Debusmann Jr.

Mexican drug trafficking organizations make billions each year smuggling drugs into the United States, profiting enormously from the prohibitionist drug policies of the US government. Since Mexican president Felipe Calderon took office in December 2006 and called the armed forces into the fight against the so-called cartels, prohibition-related violence has killed around 40,000 people, including more than 15,000 last year. The increasing militarization of the drug war and the arrest or killing of dozens of high-profile drug traffickers have failed to stem the flow of drugs -- or the violence -- whatsoever. The Merida initiative, which provides $1.4 billion over three years for the US to assist the Mexican government with training, equipment and intelligence, has so far failed to make a difference. Here are a few of the latest developments in Mexico's drug war: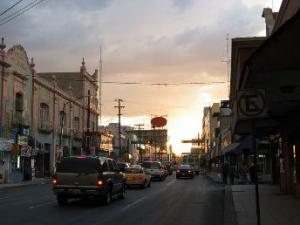 Tuesday, October 25
In Reynosa,
authorities dismantled a pirate communications network
[9]
used by drug traffickers to communicate. In the last two weeks, authorities seized 21 antennas, 22 repeaters and dozens of other items.
In Veracruz,
marines captured a local Zeta boss
[10]
. Carlos Arturo Pitalua-Carillo, "El Bam-Bam," was arrested along with 5 other men. Pitalua-Carillo is alleged to be the Zeta boss for the Veracruz area and has been linked to two separate attacks on military checkpoints.
In Valle Hermoso, Tamaulipas,
a local Gulf Cartel boss was shot and killed
[11]
. The man, known as Comandante Guerra, was the local boss for Valle Hermoso. His murder is thought to be the result of an ongoing internal struggle between rival factions of the cartel. Firefights and blockades that were reported in Reynosa and Matamoros on Tuesday and Wednesday morning have also been tied to the infighting.
In Ciudad Juarez,
the dismembered pieces of four men were left scattered around the city.
[12]
Some of the body parts were found near an elementary school and day care center. The bodies have not been identified. A note left at one of the crime scenes suggested the men belonged to the New Juarez Cartel. In other violence, a police officer was killed when his personal vehicle was riddled with gunfire and a quesadilla vendor was also murdered.
Wednesday, October 26
In Ciudad Juarez,
a 24-year old pregnant woman was burned alive after the fetus was removed from her body.
[13]
A note -- written in blood -- was left on a wall for her husband, who wasn't home at the time. Another child was rescued by firefighters from the home. The incident occurred at 2:00pm.
Saturday, October 29
In Cabo San Lucas,
hundreds of shoppers were trapped inside a mall for two hours
[14]
as a shootout took place between gunmen and Mexican security forces. Nobody was injured in the fighting. Police arrested two men that are alleged to have been involved in a fire fight the night before which killed a Mexican marine and an unidentified gunman and wounded three police officers.
Sunday, October 30
In Hidalgo County, Texas,
a gunfight between sheriffs and Mexican cartel members left one officer wounded
[15]
and a suspect dead. It is the first confirmed case of spillover violence in the county. Six people were taken into custody, including an alleged kidnap victim. According to a local official, the kidnapping was tied to a Gulf Cartel effort to recover a load of marijuana that had been stolen after the death of the cartel's second in command, Samuel Flores Borrego, in September.
Monday, October 31
In Agua Prieta, Sonora,
authorities discovered two catapults
[16]
used to fling packages of marijuana across the border into Arizona. Over a ton of marijuana was seized from the location.
In Culiacan, two
men were gunned down
[17]
with an AK-47 as they played in a soccer game. According to Mexican media outlets, both men are thought to have been tied to Chapo Guzman's Sinaloa Cartel.
In Ciudad Juarez,
October ended with 153 murders
[18]
. This is about the same as September, which ended with 146 murders. This is considerably less than October 2010, during which time a record 359 killings took place. October 17th was the most violent day of the month, with 17 killed. According to researcher Molly Molloy, 1,753 people have been killed in the city this year. Since 2008, 9,752 homicides have taken place.
In Phoenix,
US authorities announced that a large drug-ring tied to the Sinaloa Cartel has been dismantled.
[19]
Over the last month and a half, 76 people have been taken into custody. The organization, which had been in operation for at least five years, is thought to have made over $2 billion from marijuana and cocaine shipments into the US.
Tuesday, November 1
Near Santa Maria, Texas,
a high-ranking Gulf Cartel boss was captured
[20]
by border patrol agents as he tried wade across the river into the US. Jose Luis Zuniga Hernandez is believed to be the cartel boss for the city of Matamoros. Two other men were also apprehended.
In Saltillo,
several gun battles were reported in various parts of the city.
[21]
The fighting began at around 2:00pm when fire fights between groups of rival gunmen were reported in the city's east side, leaving at least one person dead. Later, fighting between marines and gunmen took place outside a local university, stranding students inside.
Editor's Note: We can no longer tally this year's drug war deaths in Mexico with accuracy. The figure for this year's deaths is an estimate, no more, until there is some official toll reported.]
Total Body Count for 2007 (approx.): 4,300
Total Body Count for 2008 (approx.): 5,400
Total Body Count for 2009 (approx.): 9,600
Total Body Count for 2010 (official): 15,273
Total Body Count for 2011: (approx.): 8,200
TOTAL: > 42,000