Support for marijuana legalization in the US continues to climb, with the Gallup Poll [12] reporting Monday that a record high 50% of Americans now approve of freeing the weed. That's up from 30% in 2000, 40% in 2009, and 46% last year.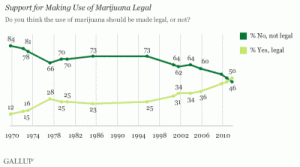 But pot legalization remains a divisive subject. Nearly half -- 46% -- of respondents opposed legalization, with only 4% either undecided or not answering the question.
When Gallup first began asking the marijuana legalization question in 1969, only 12% approved and 84% opposed. Approval figures hovered in the mid-twenties from the late 1970s to the mid-1990s before beginning the current upward climb.
In line with other national polls, the current Gallup poll found support for legalization strongest among liberals (69%), 18-29-year-olds (62%), and moderates, Democrats, and independents (57%). Men (54%) and 30-49-year-olds (56%) also showed majority support for legalization.
Those demographic groups least like to favor marijuana legalization were people over 65 (31%), conservatives (34%), Republicans (35%), and women (46%).
Geographically, marijuana legalization had majority support in the West (55%), the Midwest (54%), and the East (51%). The only region not showing majority support for legalization was the South, where only 44% approved.
Especially in the West, these numbers will bring some solace to legalization campaigners. Organizers in at least four states -- California, Colorado, Oregon and Washington -- are working toward placing legalization initiatives on state ballots, and these numbers suggest they are within striking distance of victory, even if not within the 60%+ approval comfort zone of initiative veterans.
As Gallup itself noted, "Support for legalizing marijuana has been increasing over the past several years, rising to 50% today -- the highest on record. If this current trend on legalizing marijuana continues, pressure may build to bring the nation's laws into compliance with the people's wishes."
The poll was conducted by telephone interviews on October 6-9. The sample was a random sample of 1,005 adults 18 or older living in all 50 states and Washington, DC. The margin of error is +/- 4%.