More than 1.6 million people were arrested for drug offenses in the US last year, according to the FBI's Uniform Crime Report 2010 [14], and more than half of them were for marijuana. That's a drug arrest every 19 seconds, 24 hours a day, every day last year. The numbers suggest that despite "no more war on drugs" rhetoric emanating from Washington, the drug war juggernaut is rolling along on cruise control.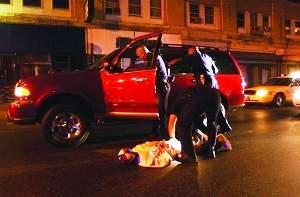 Overall, 1,638,846 were arrested on drug charges in 2010, up very slightly from the 1,633,582 arrested in 2009. But while the number of drug arrests appears to be stabilizing, they are stabilizing at historically high levels. Overall drug arrests are up 8.3% from a decade ago.
Marijuana arrests last year stood at 853,838, down very slightly from 2009's 858,408. But for the second year in a row, pot busts accounted for more arrests than all other drugs combined, constituting 52% of all drug arrests in 2010. Nearly eight million people have been arrested on pot charges since 2000.
The vast majority (88%) off marijuana arrests were for simple possession, with more than three-quarters of a million (750,591) busted in small-time arrests. Another 103,247 people were charged with sale or manufacture, a category that includes everything from massive marijuana smuggling operations to persons growing a single plant in their bedroom closets.
The stabilization of drug arrests at record high levels comes as the FBI reports all other categories of crime are dropping. Violent crime was down overall, with murder decreasing by 4.2% and robberies by 10.0%, while property crime was also down overall, with burglary and larceny declining by more than 2% and motor vehicle theft and arson down by more than 7%.
Drug arrests were the single largest category of arrests, accounting for more than 10% of all arrests in the country. They were followed by drunk driving arrests (1.41 million) and larceny arrests (1.27 million). More than three times as many people were arrested for drugs than for all violent crimes combined (552,000) and nearly as many as for all property crimes combined (1.643 million).
African-Americans continue to be arrested for drug offenses in disproportionate numbers. Blacks accounted for 31.8% of all drug arrests last year, while according to the
US Census Bureau
[15]
, they constitute only 12.6% of the national population.
[Visit the Drug War Facts Crime section

[16]

for updated tables presenting arrest data from 1980 through the present.]
The high drug arrest numbers were grist for the mill for drug war critics.
"This shows that, contrary to what Obama and Kerlikowske say, the war on drugs is not over," said Bill Piper, national affairs director for the
Drug Policy Alliance
[17]
. While conceding that the vast majority of drug arrests are conducted by state and local law enforcement, "the Obama administration sets the tone," he argued. "Kerlikowske said he ended the war on drugs—not the
federal
war on drugs—but federal money absolutely subsidizes state and local drug arrests by funding programs like the Byrne Justice Assistance Grant program and the COPS program. They are supposed to be setting national policy, but they're not doing a very good job of leading by example."
"Since the declaration of the 'war on drugs' 40 years ago we've arrested tens of millions of people in an effort to reduce drug use," noted Neill Franklin, a retired Baltimore narcotics cop who now heads the group
Law Enforcement Against Prohibition
[18]
(LEAP). "The fact that cops had to spend time arresting another 1.6 million of our fellow citizens last year shows that it simply hasn't worked. In the current economy we simply cannot afford to keep arresting three people every minute in the failed 'war on drugs. If we legalized and taxed drugs, we could not only create new revenue in addition to the money we'd save from ending the cruel policy of arresting users, but we'd make society safer by bankrupting the cartels and gangs who control the currently illegal marketplace."
While national drug reform groups had harsh words for the policies leading to the overall drug arrest figures, marijuana reformers were equally critical when it came to the herb and the arrests it generates.
"Today, as in past years, the so-called 'drug war' remains fueled by the arrests of minor marijuana possession offenders, a disproportionate percentage of whom are ethnic minorities," said
NORML
[19]
deputy director Paul Armentano. "It makes no sense to continue to waste law enforcements' time and taxpayers' dollars to arrest and prosecute Americans for their use of a substance that poses far fewer health risks than alcohol or tobacco."
"It's pretty obvious that we continue to spend billions a year arresting nearly a million people for marijuana related crime, yet use had not fallen dramatically," said Morgan Fox, communications director for the
Marijuana Policy Project
[20]
. "That shows that this is just a waste of time and money. It's really disingenuous for the Obama administration and the drug czar to say they are concentrating on public health measures and harm reduction and moving away from law enforcement, and then release numbers that show that was not the case, that the arrest rates are staying the same."
Fox noted that pot arrests accounted for 5.7% of all arrests nationwide. "If the drug czar says we can't arrest our way out of the drug problem, then why are we spending one-twentieth of our law enforcement resources arresting people for nonviolent, victimless crimes?" he asked. "We could be using those resources for solving rapes and murders."
More than a decade of drug reform efforts have managed to slow what once seemed to be endless annual increases in drug arrests in the US, but stabilizing at around 1.6 million drug busts a year is not victory, only the first step in putting the brakes on the drug war juggernaut. Now, it's time to start concentrating on bringing it to a screeching halt.