by Bernd Debusmann Jr.

Mexican drug trafficking organizations make billions each year smuggling drugs into the United States, profiting enormously from the prohibitionist drug policies of the US government. Since Mexican president Felipe Calderon took office in December 2006 and called the armed forces into the fight against the so-called cartels, prohibition-related violence has killed around 40,000 people, including more than 15,000 last year. The increasing militarization of the drug war and the arrest or killing of dozens of high-profile drug traffickers have failed to stem the flow of drugs -- or the violence -- whatsoever. The Merida initiative, which provides $1.4 billion over three years for the US to assist the Mexican government with training, equipment and intelligence, has so far failed to make a difference. Here are a few of the latest developments in Mexico's drug war: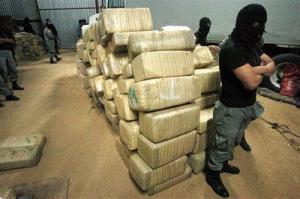 Thursday, August 4
In Jalisco,
six charred bodies were discovered by police
[13]
in a flaming SUV. All six had apparently been tortured or mutilated before being set on fire, which is indicative of cartel-related violence. Jalisco is home to several cartels, including the Sinaloa Cartel and the Jalisco Cartel New Generation (CJNG).
Friday, August 5
In Ascension, Chihuahua,
the entire 26-man police force quit
[14]
for fear of their lives after two local police officers were killed earlier in the week. Their duties are now being taken over by state and federal police forces and by army patrols.
Saturday, August
In the Monterrey suburb of San Nicolas de las Garza,
five young men between the ages of 17 and 20 were found murdered
[15]
and dumped on a sidewalk. Police said the victims all had the "look of gang members," but this has not yet been confirmed. Police are investigating to see whether the men were killed elsewhere and then dumped where they were found, as only one bullet casing was discovered at the scene.
In Ciudad Juarez,
a high-ranking police commander responsible for the city's downtown area was shot dead
[16]
near the International Bridge to the US. Victor Nazario Moreno Ramirez, 32, was in his vehicle when it was boxed in by four vehicles full of gunmen who opened fire. Police discovered 420 spent shell casings at the scene, mostly from AK-47's. Another passenger was seriously wounded. Moreno had previously been in command of an elite unit of the municipal police responsible for special operations and responding to high-impact crime.
Sunday, August 7
In Ciudad Juarez,
an El Paso woman was murdered in front of her 4-year old daughter
[17]
. Stephanie Marie Lozano was sitting in a car with her boyfriend outside his home when gunmen arrived in a truck and shot them both dead. Her daughter Hailie was in the backseat and was not shot, but apparently suffered powder burns from gunpowder. Witnesses indicate that police did not chase the assailants car even though it continued to drive around the area. It also appears as if Juarez police told Lozano's family they would not be investigating and should simply consider it a tragic event.
Near Guadalajara,
a 13-year old girl was taken into custody
[18]
after a fire fight and allegedly admitted to working for the Zetas. The girl, identified only by her alias, "Pearl," told police that she was paid $325 dollars every two weeks to act as a "hawk," which is cartel slang for a look-out that reports on the movement of authorities and other enemies. She is the latest in a string of high-profile cases involving extremely young people who have become involved in cartel activities. The most famous, Edgar Jimenez Lugo, 14, is currently serving a three-year sentence for his participation in the torture and murder of four people who were found hanging from a bridge between Mexico City and Acapulco.
In Mexico City,
the office of the chief federal security spokesman acknowledged
[19]
that US agents participate in intelligence analysis and information exchange with Mexican security forces in Mexico. Over the weekend, the New York Times reported that CIA agents and former American military personnel are working on some Mexican military bases and that the government has considered using private contractors for security operations inside Mexico.
Monday, August 8
In Mexico City,
the government announced
[20]
that 172 municipalities will not be receiving federal anti-crime assistance money because they have not shown any progress in improving the training or quality of local police forces. Among the places being cut off from federal funding are the cities of Ciudad Juarez, Reynosa, and Nuevo Laredo, which have all experienced extremely high levels of drug-related crime.
Also in Mexico City,
SEDENA announced the results of a 20-day military operation
[21]
across the states of Coahuila, San Luis Potosi, Tamaulipas and Nuevo Leon. "Operation Northern Lynx" resulted in the deaths of 30 suspects and the arrest of 196 more, as well as the seizure of over 1,200 weapons and 3.3 tons of marijuana and 260 vehicles. Twelve kidnap victims were also rescued. Soldiers participating in the operation came under fire 21 times, resulting in the death of one soldier and wounding 21 others.
Tuesday, August 9
In Michoacan,
the bullet-riddled bodies of four police officers and two civilians were found
[22]
. The officers, two of whom were women, had all been reported missing Saturday in the neighboring state of Colima. The motive is currently unknown.
In Mexico City,
a judge blocked the extradition
[23]
of a high-ranking female cartel boss, Sandra Beltran Leyva, who is known as the "Queen of the Pacific," to the United States on organized crime, drug trafficking and money laundering charges for which she was acquitted. She has been in custody since her arrest in 2007, and it is unclear if this means she will now be released. She still faces a money laundering charge.
Wednesday, August 10
In the city of Chihuahua, a former police chief was assassinated [24] as he ate at an Applebee's Restaurant. Jose Refugio Ruvulcaba Plascencia was police chief in Chihuahua in the late 1990's and in Ciudad Juarez in 2003.
In Ciudad Juarez, a transit police officer was run down by gunmen and shot dead. [25]
Total Body Count for 2007 (approx.): 4,300

Total Body Count for 2008 (approx.): 5,400

Total Body Count for 2009 (approx.): 9,600

Total Body Count for 2010 (official): 15,273

Total Body Count for 2011: (approx.): 6,700