by Bernd Debusmann Jr.

Mexican drug trafficking organizations make billions each year smuggling drugs into the United States, profiting enormously from the prohibitionist drug policies of the US government. Since Mexican president Felipe Calderon took office in December 2006 and called the armed forces into the fight against the so-called cartels, prohibition-related violence has killed around 40,000 people, including more than 15,000 last year. The increasing militarization of the drug war and the arrest or killing of dozens of high-profile drug traffickers have failed to stem the flow of drugs -- or the violence -- whatsoever. The Merida initiative, which provides $1.4 billion over three years for the US to assist the Mexican government with training, equipment and intelligence, has so far failed to make a difference. Here are a few of the latest developments in Mexico's drug war: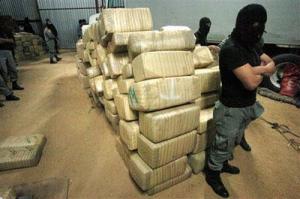 Wednesday, July 27
In Veracruz,
a local newspaper published an editorial
[14]
strongly denying that a recently slain journalist had ties to drug trafficking organizations. Last week the state attorney general said that journalist Yolanda Ordaz De La Cruz -- who was found decapitated and tortured -- may have been killed by one gang because of her ties to another. The newspaper, Notiver, has called on state attorney general Reynaldo Escobar to publicly apologize and resign.
In Ciudad Juarez,
Interior Minister Francisco Blake said that federal forces would not be withdrawn from Juarez
[15]
, despite a statement Tuesday by Mayor Hector Murguia that federal police would be withdrawn in the area in September. The relationship between local security forces and the federal police is notoriously bad. Just last week, federal police shot at the convoy of municipal police chief Julian Leyzaola.
Friday, July 29
In the city of Chihuahua,
authorities captured a high-ranking figure in La Linea
[16]
, the armed wing of the Juarez Cartel. Jose Antonio Acosta Hernandez, "El Diego," is alleged to have participated in some 1,500 murders in the Ciudad Juarez area. Among the crimes he's accused of masterminding is the murder last year of a US consulate employee and the January 2010 massacre of 15 teenagers at a party.
Saturday, July 30
In Nuevo Laredo,
about 80 local leaders including the mayor demanded that the local police force be reinstated.
[17]
The Nuevo Laredo municipal police was disbanded in June and replaced with military personnel pending the vetting and testing of local police. Crime has since continued to rise. 21 other municipalities in Tamaulipas also had their security duties taken over by the Mexican military.
Sunday, July 31
In Ciudad Juarez,
two people were murdered
[18]
. According to researcher Molly Molloy, this brings July's total to 216, including 13 women and 8 minors.
In Michoacán,
police arrested
[19]
the head of the Knights Templar Organization for the city of Apatzingan. Nery Salgado Harrison, 24, has been in charge of the Apatzingan area since 2009 and is thought to be heavily involved in the production and local distribution of meth. The Knights Templar is an off-shoot of La Familia, which splintered into quarreling factions after the death of boss Nazario "El Chayo" Moreno in December 2010.
Monday, August 1
In Acapulco,
federal police captured a high-ranking leader of the Independent Cartel of Acapulco.
[20]
Moises Montero Alvarez, 42, "El Koreano," was captured along with one other suspect. Alvarez is thought to be connected to the September kidnapping and murder of 20 tourists from Michoacán, after apparently being mistaken for members of La Familia.
In Nuevo Leon,
a police supervisor and his son were gunned down
[21]
in front of a school in the town of San Nicolas de las Garza.
Tuesday, August 2
In Ciudad Juarez, authorities
announced the arrest of a prison director
[22]
and four guards in connection with last week's deadly clashes which killed 17 inmates in Ciudad Juarez's municipal jail facility. The director, Lucio Cuevas, is accused of granting favors to inmates. Video of the shooting shows guards letting in gunmen to open fire on inmates.
In Coahuila, authorities
captured Valdemar Quintanilla Soriano
[23]
, allegedly the number two financial operator of the Zetas Organization. Quintanilla is also thought to have connections to the top tier of Zetas leadership, such as Heriberto Lazcano. Another man was also taken into custody.
In Reynosa,
five gunmen were killed in a fire fight with the army.
[24]
The city used Twitter and other social networking sites to warn residents of the fighting, which took place at around noon in the Las Fuentes area of the city. Reynosa is just across the border from McAllen, Texas.
Total Body Count for 2007: (approx): 4,300
Total Body Count for 2008: (approx.): 5,400
Total Body Count for 2009: (approx.) 9,600
Total Body Count for 2010: (official) 15,273
Total Body Count for 2011: (approx.): 6,600