Last Friday, thousands of police from across the country, as well as civilians, gathered in downtown Washington, DC, for a candlelight vigil to honor law enforcement officers who gave their lives in the course of their duties. The event was a highlight of National Police Week [15], sponsored by the National Law Enforcement Officers' Memorial Fund [16], which is set up to honor those who have died.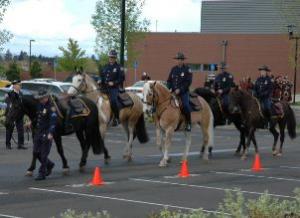 There were plenty to remember. According to the
Officer Down Memorial Page
[17]
, 158 law enforcement officers died in the line of duty last year. Not all of them were killed by criminals. Forty-three died in auto accidents, 12 died of heart attacks, seven were struck by vehicles, five died in motorcycle accidents, four died in vehicle pursuits, two each died of falls, aircraft accidents, and accidental gunshot wounds, and one each died of heat exhaustion, unspecified accident, training accident and boating accident.
According to
FBI statistics
[18]
released Monday, 56 of those law enforcement deaths were felonious, 55 by gunfire and one by motor vehicle. According to a Drug War Chronicle analysis, seven of those deaths were related to drug law enforcement. Our parameters are conservative, but unavoidably subjective, fuzzy, and open to challenge. Those incidents where officers were killed because of the way we address illicit drug use and sales are:
If these seven deaths all qualify as drug war-related, that means police killed as part of the drug war account for 12.5% of all felonious officer deaths. The number may seem small -- only seven dead officers -- but that is seven officers who most likely would not be dead today but for drug prohibition. And nobody seems to know how many were wounded, sometimes with grave consequences, but it is almost certain to exceed the number killed.

[Editor's Note: Nor is anybody counting how many civilians are being killed in the name of drug law enforcement -- except for Drug War Chronicle. This year, we are tallying every reported death due to US domestic drug law enforcement operations [26]. Just for perspective, so far, we have 25 dead civilians and two dead law enforcement officers.]

"One dead police officer is too many in my book, said Neill Franklin, a 34-year veteran of the Baltimore Police Department and Maryland State Police who now heads the group Law Enforcement Against Prohibition [27] (LEAP). "If we can save one life through drug policy reform, it's worth it to me."

"I may have to die as a cop, but I certainly don't want to die just because some 13-year-old is slinging crack," said Peter Moskos, a former Baltimore police officer and author of Cop in the Hood, who is now on the faculty of the John Jay College of Criminal Justice in New York City.

There are ways to reduce that likelihood, both men said. They range from harm reduction measures such as decriminalizing marijuana possession, decriminalizing all drug possession, and providing heroin maintenance for addicts, to rebuilding police-community relations, especially in the inner cities, to revisiting and revising police tactics, particularly SWAT-style no-knock raids and perhaps those "reverse sting" operations, to shifting police resources and priorities.

"Why are the cops selling pot?" asked an incredulous Moskos as he reviewed the killing of Chandler Police Officer Ledesma in a "reverse sting" gone horribly awry. "Why sell 500 pounds of marijuana? What were you hoping to do?"

"We're starting to see marijuana decriminalization in more states, and I think that's important," said Franklin, citing New York City's policy of mass stop and frisks and mass marijuana possession arrests, almost always against young people of color. "If more states starting moving toward decriminalization, we could relieve some of the pressure from this steaming tea kettle. That would make for a more relaxed environment between police and young people. Prohibition has made our communities extremely tense and dangerous, and the cops are on edge. We have to rebuild this relationship."

"We can fight the war on drugs less," said Moskos. "Police do have discretion. They can focus on other crimes and shift resources accordingly."

And they could rethink the gung-ho paramilitary raids, said Moskos. "I always think of David Koresh and the Branch Davidians in Waco," he said. "They could have just picked him up at McDonald's. But from the cop perspective, these raids are pretty safe. They represent a shift in police mentality. They're not so safe for civilians, but that's a risk police are willing to take. They would rather have collateral damage than damage to their own ranks."

Both Franklin and Moskos said that only counting incidents where there is a direct drug war connection probably results in undercounting the number of police officers killed because of drug prohibition. The case of Georgia State Patrol Officer Chadwick LeCoy [28], which didn't make the list, is illustrative of the broader impact of decades of drug war on the safety of police. LeCroy was shot and killed after a short vehicle pursuit on December 27. He wasn't enforcing the drug laws, but the driver who killed him had extensive experience with the criminal justice system, including prior drug, firearms, and eluding police convictions [28].

Given the millions of drug arrests in the past few decades, the tens of millions of years worth of prison sentences handed out, the lives knocked off track by a drug-based encounter with the criminal justice system, it is no leap of the imagination to think there are plenty of people out there nursing very serious grudges -- grudges that might manifest themselves as attacks on police even if there is no immediate drug link.

"Maybe we need a separate category: this would not have occurred if drugs were not illegal," said Moskos. "If someone has a long record because of drugs and then shoots at a cop at traffic stop, that could fit that category. Police get the brunt of it because of the war on drugs."

"These decades of drug war have poisoned the well," said Franklin, recalling his teenage years in Baltimore. The kids would be hanging out, and when the patrol car rolled around the corner, they would chat and joke with the officer before he went on his way, he said.

"Now, in that same neighborhood, when a police call turns the corner, the first thing you hear is shouts of '5-0' and everyone scatters," he related. "If I tried to talk to them, they were very standoffish and using words you don't want to repeat. It's a very antagonistic and uncomfortable situation; you can feel the tension. They will tell you they don't trust the police and that the police mainly come into their neighborhoods to search them, their cars, and their homes for drugs. The foundation for this separation of police and community is our drug policies and the environment they create."

There are ways to reduce the death toll, both law enforcement and civilian, in the war on drugs. We know what they are and how important the task is. The problem is political will. And the very law enforcement organizations whose officers' lives could be saved are among the biggest obstacles to change.

[Click here [29] for a Flickr slideshow from the 2011 NLEOMF Candlelight Vigil.)