---

Click on the banner to purchase copies of the 10 Rules for Dealing with Police [3] DVD, for yourself and your friends! Thanks to our new affiliate partnership with Flex Your Rights, your purchase will support both organizations! Post the link [3] on your web sites, FaceBook and Twitter pages, and in emails, to spread the word and help the cause.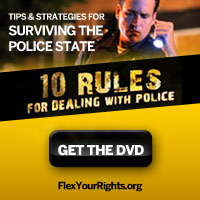 Permission to Reprint:
This issue of Drug War Chronicle is licensed under a modified
Creative Commons Attribution license
. Articles of a purely educational nature in Drug War Chronicle appear courtesy of DRCNet Foundation, unless otherwise noted.
---
Links:
[1] https://stopthedrugwar.org/user/psmith
[2] https://stopthedrugwar.org/user/borden
[3] http://www.1shoppingcart.com/app/?af=1337893
[4] https://stopthedrugwar.org/chronicle/683#comments
[5] https://stopthedrugwar.org/license