Washington Gov. Chris Gregoire Friday vetoed large parts of a medical marijuana bill that would have created a state-wide patient and provider registry and a state-licensed and regulated dispensary system, citing the potential threat to state workers who could be prosecuted under federal law. Gregoire's partial veto eliminated the dispensary and registry provisions, leaving little left of Senate Bill 4073 [12] but a reiteration of existing affirmative defenses for patients and providers.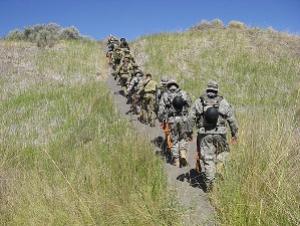 In her
veto statement
[13]
, Gov. Gregoire said that the dispensary licensing and regulation provisions "would direct employees of the state departments of Health and Agriculture to authorize and license commercial businesses that produce, process or dispense cannabis. These sections would open public employees to federal prosecution, and the United States Attorneys have made it clear that state law would not provide these individuals safe harbor from federal prosecution. No state employee should be required to violate federal criminal law in order to fulfill duties under state law. For these reasons, I have vetoed" the relevant sections.
She also vetoed language that would require owners of housing to allow medical marijuana use on their property because it "put them in potential conflict with federal law." And she vetoed reciprocity language allowing nonresidents to use while in Washington because it "would not require these other state or territorial laws to meet the same standards for health care professional authorization required by Washington law."
Gregoire's veto pen also killed language that would have allowed people on probation or parole to use medical marijuana with a court's approval. "The correction agency or department responsible for the person's supervision is in the best position to evaluate an individual's circumstances and medical use of cannabis," she explained.
Gregoire said she vetoed the statewide patient and provider registration provisions because "they are intertwined with requirements for registration of licensed commercial producers, possessors, and dispensers of cannabis" and would thus leave state employees still facing the threat of federal prosecution.
"I am not vetoing Sections 402 or 406, which establish affirmative defenses for a qualifying patient or designated provider who is not registered with the registry," which she vetoed. That and provisions allowing for scientific study of medical marijuana, protecting the parental rights of patients, and barring discrimination in housing or organ transplants are about all that's left of what was supposed to be Washington's dispensary bill.
Gregoire signaled in mid-month that she was leery of federal prosecution of state employees, citing letters from the state's two US attorneys warning that state employees who licensed or regulated large-scale commercial marijuana operations would not be immune from prosecution under the Controlled Substances Act.
Bill sponsor Sen. Jeanne Kohl-Welles (D-Seattle) said she was disappointed but not surprised by Gregoire's action. "I think the potential for federal arrest and prosecution of state employees is extremely improbable," Kohl-Welles told the
Seattle Post-Intelligencer
[14]
after the governor's partial veto. "I think that the patients are the most important consideration."
Kohl-Welles said she was working on a new bill for the legislature's current special session, one that would not involve state employees. "Gregoire does not want to have state workers included at all," Kohl-Welles said. "We have to find out what can be done without their involvement."
The ACLU of Washington sent Gregoire a
letter
[15]
Thursday urging her to sign the bill unaltered and suggesting her fear for state employees was unwarranted. "The federal government has never prosecuted state employees involved in implementing a state-adopted medical marijuana law, and it will not do so in Washington," the letter said. "Empty threats by the federal government should not be used as justifîcation for refusing to sign legislation that will aid suffering residents, as well as local governments, of Washington."
But that's just what Gov. Gregoire did with the veto pen last Friday.