The Framingham, Massachusetts, SWAT team officer who shot and killed a 68-year-man lying prostrate on his apartment floor during a drug raid will face no criminal charges. The killing of Eurie Stamps [13] was an "accident," according to a Wednesday report [14] from the office of Middlesex County District Attorney's Gerard Leone.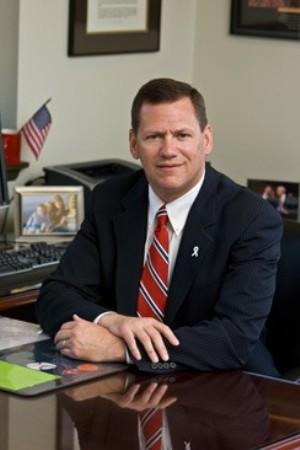 The report named the shooter as Officer Paul Duncan, who was part of a SWAT team enlisted to take part in a drug raid aimed at Stamps' grandson, Joseph Bushfan. Police arrested Bushfan outside the home before kicking down the door, throwing a stun grenade, and ordering everyone to the floor. Stamps had obeyed and was lying on the floor when Duncan attempted to cuff and frisk him.
"As he stepped to his left, (Duncan) lost his balance and began to fall over backwards," the report said. "Officer Duncan realized that his right foot was off the floor and the tactical equipment that he was wearing was making his movements very awkward. While falling, Officer Duncan removed his left hand from his rifle, which was pointing down towards the ground and put his left arm out to try and catch himself. As he did so, he heard a shot and then his body made impact with the wall. At that point, Officer Duncan, who was lying on the ground with his back against the wall, realized that he was practically on top of Mr. Stamps and that Mr. Stamps was bleeding. Officer Duncan immediately started yelling 'man down, man down.' Numerous SWAT members began calling for medics and alerting team members that there was a person down that needed medical attention. Officer Duncan told another officer on scene within moments of the incident that he had stumbled and lost his balance while moving to get in a better position, and as he was falling, his gun fired."
That was good enough for DA Leone: "The conclusion of this office is that the actions of Officer Duncan do not rise to the level of criminal conduct, and the shooting death of Eurie Stamps was an accident."
But it wasn't good enough for Stamps' family members and their attorneys. Both Stamps' widow and his children are pondering lawsuits in the case.
"Eurie Stamps' death was the result of a fundamentally unjustifiable shooting by law enforcement officers who are charged with protecting public safety," said Anthony Tarricone, a lawyer representing Stamps' children. "When an innocent man dies this way at the hands of police, there really are no excuses that can satisfactorily explain away such a tragedy," he told the
Boston Herald
[15]
.
"I don't think it's right," said Adia Boston, Stamps' niece by marriage. "I think he should be suspended, at a minimum. There should be job loss, if not jail. That wasn't an accident... It shouldn't be an accident if it's the SWAT team. They're supposed to be trained."
Joseph Bardouille, the attorney representing Stamps' widow, said that the district attorney's report did not address serious questions about the shooting and that the family is undertaking a civil rights investigation.
"One of the purposes of the family's inquiry is to make sure SWAT officers throughout the commonwealth are trained," Bardouille said, noting experts have told him an officer's finger should not be on the trigger unless he is prepared to shoot. "They want to prevent something like this from happening again."
Officer Duncan remains on paid administrative leave while the Framingham Police Department finishes its investigation of the incident.
A civilian who shot an innocent man in these circumstances would be likely to face involuntary manslaughter charges at the least. But that is not the case when law enforcers investigate themselves.