It's a veritable cornucopia of drug-related law enforcement corruption! We don't even know where to begin -- just jump in, but don't forget to take a shower after you're done. Let's get to it: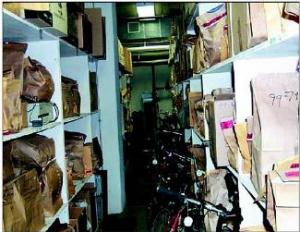 In Philadelphia, a
[12]
narcotics cop accused of stealing money from people he stopped has been fired
[12]
after the
Philadelphia Daily News
published those allegations. Officer Joseph Sulpizio, 42, had been looking at criminal charges, but Police Chief Charles Ramsey said that now wouldn't happen because the news article "blew the investigation." It was unclear how the
Daily News
article actually prevented the prosecution.
In San Francisco,
six narcotics officers have been accused of illegal searches and perjury
[13]
by the San Francisco Public Defender's Office, which has released a video it says proves its case. In two separate drug busts at apartments in the Henry Hotel in December and January, police without search warrants entered the apartments and arrested the occupants on drug sales charges. Police said they had informant tips and hot gotten consent to search from the residents. But videos captured by hallway surveillance cameras showed that an officer had used a master key to enter the apartments without the consent of the residents. Last week, a San Francisco Superior Court judge threw out one case, and prosecutors dropped the second one the next day. The public defenders are calling for an additional independent investigation of the incidents, perhaps by the state attorney general's office.
In Buffalo, New York,
a Transportation Security Administration agent was arrested March 2
[14]
on charges he allowed a "drug kingpin" to pass unmolested through security at the Buffalo Airport. TSA agent Minetta Walker, 43, a behavioral detection officer, is also accused of helping other drug traffickers evade scans and searches to take cash -- but not drugs -- through the airport. She was arrested along with the "kingpin," a Buffalo man who regularly flew to Arizona with large amounts of cash that he used to purchase marijuana, which he then shipped back to Buffalo. Walker is accused of letting him travel under a false name and ushering him past security lines where he might be stopped for carrying large amounts of cash. She has pleaded not guilty to charges of running a criminal enterprise, conspiracy and intent to distribute 100 kilograms or more of marijuana, as well as charges of conspiring to defraud the US and aiding and abetting another to avoid security requirements.
In Dallas,
the head of the Mesquite Police Department narcotics unit was arrested last Friday
[15]
on charges he was ripping off cash during the execution of drug search warrants. Sgt. John David McAllister, 42, after the FBI received a tip in December that he was stealing cash. The FBI set up a sting operation in which an undercover FBI officer posed as a drug courier carrying $100,000 in cash. McAllister and his partner approached the vehicle, turned the driver over to other police, then searched the vehicle, finding the bundles of cash. Video recordings captured him taking one of the bundles and stashing it in his pants. When FBI agents counted the seized cash, it was short $2,000. McAllister is charged with theft of government property, and faces up to 10 years in prison if found guilty.
In Danville, California,
a Contra Costa County sheriff's deputy was arrested last Friday
[16]
in connection with the investigation of a state narcotics agent who allegedly stole drugs from evidence lockers for resale. Deputy Stephen Tanabe, 47, was charged with suspicion of possession and transfer of an assault rifle and conspiracy to possess and sell controlled substances. Tanabe went down as a result of investigations into the February 16 arrest of Contra Costa Central Narcotics Enforcement Team lead Christopher Butler, who was arrested along with a private investigator on 28 felony counts of theft and the possession and sale of meth, marijuana, steroids, and prescription pills. Butler, Tanabe, and the private investigator were all police officers together at the Antioch Police Department in the 1990s.
In Phoenix,
a Phoenix police detective was arrested Monday
[17]
after being accused of replacing Oxycontin in the department's evidence room with over-the-counter drugs. The detective, whose name has not yet been released, is believed to have tampered with 83 evidence bags and swapped-out 2,400 prescription narcotics, replacing them with OTC drugs. The detective could face charges of evidence tampering, theft and drug possession in connection with the investigation. He has been interviewed and released and has resigned from the force.
In Detroit,
another Inskter police officer and a former Wayne County prosecutor have pleaded guilty
[18]
in a case in which Inskter narcotics officers, Wayne County drug prosecutor Karen Plants, and Wayne County Circuit Court Judge Mary Waterstone conspired to knowingly allow perjured testimony to be heard in a cocaine trafficking case. Officer Robert McArthur admitted filing false investigative reports in the 2005 case and pleaded guilty to a misdemeanor charge of willful neglect of duty. Charges of perjury and conspiracy were dropped against McArthur, who could have faced life in prison. Plants then pleaded guilty to one count of official misconduct and agreed to serve six months in jail. The former drug prosecutor copped to the plea in order to avoid trial on a conspiracy count that could have given her life in prison. Earlier, Inskter Officer Scott Rechtzigel pleaded guilty in the same case. Judge Waterstone is scheduled for trial in May. The four plotted to hide the fact that a witness in the case was in fact a snitch for the Inskster cops who had a large monetary incentive to testify as he did.
In Philadelphia,
a fired Philadelphia police officer was convicted last Friday
[19]
in a scheme to steal 300 grams of heroin during a fake traffic stop in his patrol car. Mark Williams, 27, was found guilty of drug and robbery charges. Williams staged the robbery of drug courier last May and split $6,000 in what he thought were proceeds from the sale of the heroin with two other officers, who have already pleaded guilty. But one of his co-conspirators was actually a DEA informant, and the $6,000 was really government bait money. Williams was convicted of conspiracy to distribute more than 100 grams of heroin, possession with intent to distribute heroin, conspiracy to commit robbery and attempted robbery. He's looking at a mandatory minimum five years on the drug counts and another five years on the robbery charges. He has been jailed pending sentencing.
In Alice, Texas,
the former Jim Wells County district attorney pleaded guilty Monday
[20]
to charges he misused millions in seized drug money. For six years ending in 2008, former DA Joe Frank Garza led Jim Wells County law enforcement in an aggressive scheme to pull cars over and seize forfeited property and cash. Garza spent the cash on bonuses for himself and three secretaries, as well as trips to Las Vegas for "seminars." Texas law requires that asset forfeiture expenditures be approved by the county commission, but Garza never bothered. He pleaded guilty to one count of misappropriating more than $2 million, and will likely be sentenced to six months in jail at sentencing in May. He will also have to pay $2.1 million in restitution.