Washington state Rep. Roger Goodman [15] (D) has announced that he is seeking the Democratic Party nomination to challenge US Rep. Dave Reichert (R), a two-term congressman who represents Washington's 8th congressional district. Although he doesn't emphasize it heavily on his campaign web pages, Goodman is a champion of drug policy reform.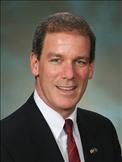 His reform record is long and impressive. An attorney, Goodman served as the executive director of the Washington State Sentencing Guidelines Commission in the late 1990s and was elected to the National Association of Sentencing Commissions. While with the state commission, he published major reports on prison capacity and sentencing policy, helped to increase availability of drug treatment in prisons, and shepherded 14 other sentencing-related bills through the legislature.
Goodman followed up the sentencing stint by leading the King County Bar Association's Drug Policy Project, which coordinated a groundbreaking initiative to take a critical look at drug laws and promote cheaper, more effective, and more humane drug policies. In doing so, he helped create an impressive coalition of over 20 professional and civic organizations that has spurred the legislature to reduce imprisonment of drug offenders and shift funding into drug treatment.
A state representative since 2006, Goodman is cosponsor of a marijuana legalization bill currently before the legislature, and is supporting a pending medical marijuana dispensary bill. Last session, he helped push through a 911 Good Samaritan drug overdose prevention bill, and is seeking similar legislation to help prevent alcohol overdoses. He continues to work for sentencing reform in the legislature as well.
While Goodman is aiming at the 8th congressional district, that could change because of redistricting. He told the Chronicle he could end up in one of three different districts, but said he was confident he could win in any of them.
(This article was published by StoptheDrugWar.org's lobbying arm, the Drug Reform Coordination Network, which also shares the cost of maintaining this web site. DRCNet Foundation takes no positions on candidates for public office, in compliance with section 501(c)(3) of the Internal Revenue Code, and does not pay for reporting that could be interpreted or misinterpreted as doing so.)