Iran began 2011 by hanging eight accused drug traffickers at Qom prison south of Tehran New Year's Day, and that was just day one. By the end of January, Iranian authorities had executed at least 56 drug offenders, according to press accounts compiled by the anti-death penalty group Hands Off Cain [11].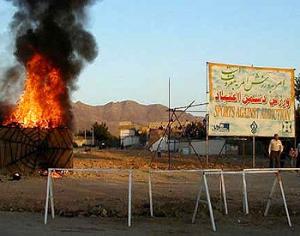 Seven drug offenders were hung in the Kermanshah prison January 3, and another in Shirvan two days after that. Two more went to the gallows on January 7 in Boroujerd, and another four were hung in Isfahan prison the following day. Another seven were hung in Tehran's Evin Prison on January 12 and five more the following day in the western city of Khoramabad. On January 18, one drug smuggler was executed in Zarand, and 10 drug traffickers were hung the following day at Kharaj's Rejai Shahr Prison. Six days after that, one drug offender was hung in Bojnourd. The month ended with 10 drug executions on January 27, seven at the Ghezel Hesar Prison west of Tehran, and three in the town of Orumieh.
Only one of those cases created even a ripple of media interest outside Iran, and that was because the victim,
Sahra Bahrami
[12]
, 46, held dual Dutch and Iranian citizenship. Bahrami was originally arrested during anti-government demonstrations in 2009, but was convicted of drug trafficking after authorities said they discovered cocaine in her home and developed evidence they said showed she had smuggled drugs into the country at least twice. Her execution has led to a freeze in diplomatic relations between Tehran and the Hague.
While Iran has been one of the governments most likely to resort to the death penalty for drug offenses, the spate of executions so far this year suggests that the Islamic Republic is stepping up the pace. Last year, Iran hanged 179 people, but with at least 65 executions overall in January, if Iran keeps up the pace, it will exceed last year's total by the end of March.
For information on ongoing efforts to curtail the use of the death penalty for drug offenses, visit the International Harm Reduction Association's
Death Penalty Project
[13]
.