Drug War Chronicle Book Review: "Cannabinomics: The Marijuana Policy Tipping Point," by Christopher Glenn Fichtner, MD (2010, Well Mind Press, 345 pp., $29.95 HB)

(Order this and other new membership premiums by donating to StoptheDrugWar.org [14].)

Cannabinomics? That is simply Chris Fichtner's eye-grabbing term for managing our relationship with cannabis. Or it is cannabis science, cannabis policy, and cannabis economics. Or, more broadly, it is the development of the vocabulary that will allow us to move from pot prohibition to regulation.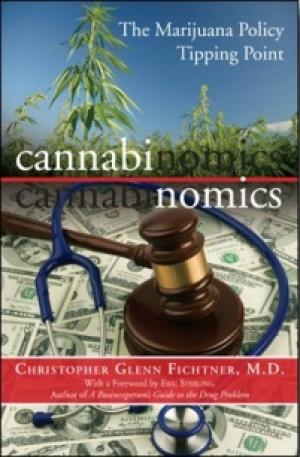 I read lots and lots of books about marijuana policy -- it's part of my job -- and I have to say that Cannabinomics is one of the most gratifying I've seen in a long time. While Fichtner covers a lot of familiar territory -- the increasing acceptance of medical marijuana, the amazing stupidity of and harms derived from pot prohibition, the economic potential of marijuana -- he does so in a manner that is both fresh and exceedingly well thought out.
Fichtner is an MD, a psychiatrist, and public mental health specialist who has served, among other posts, as the Illinois state mental health director. As such, he brings a powerful professional focus to marijuana and health and marijuana and mental health. But equally as valuable, he brings with him a calm, considered, and compassionate approach to the Gordian Knot of issues that surround cannabis in our society.
In fact, I would have to say that if I had to choose a single title dealing with marijuana policy to give to someone new to the conversation, I'd have to go with Cannabinomics. Fichtner is cautious and even-handed -- he is, after all, a psychiatrist, not a wild-eyed pamphleteer -- and that makes his carefully considered judgments all the more powerful.
As a practicing psychiatrist, Fichtner has had ample opportunity to see how medical marijuana (or, as he prefers, therapeutic cannabis) has worked for some of his patients. Cannabinomics includes several abbreviated case histories of patients who, on their own, turned to medical marijuana to relieve symptoms ranging from epileptic seizures to depression to PTSD. That provides him with an opportunity to tout "consumer-driven health care" -- in other words, listening to patients about what actually works for them.
That is at odds with the prevailing model of scientific research on medicines, which relies on rigorous, large sample, carefully-designed testing. As Fichtner notes, there is nothing wrong with such testing, but it should not be exclusively relied on at the expense of real world patient experience. If a patient reports that carefully titrated use of marijuana reduces the frequency of his seizures, it does no one any good to retort that such findings are not supported by the scientific data.
Of course, marijuana is funny that way. It's not a medicine in the eyes of Western medicine because it's not a synthesized and standardized concoction available in pill form from a major pharmaceutical company. In fact, Fichtner suggests that perhaps marijuana should not be treated as a medicine but as an herbal, or traditional medicine. He also wonders, quite convincingly, whether health care in the US is driven more by the needs of pharmaceutical companies than those of human beings.
But while Cannabinomics begins with medical marijuana, it isn't just about medical marijuana. Fichtner also discusses the history and results of marijuana prohibition in the US. Unsurprisingly, like every even-handed observer on the topic, he finds prohibition to be a disaster, both in terms of public policy and in terms of wasted opportunities. He doesn't cover a lot of new ground there, but he does calmly and dispassionately make the case that pot prohibition is one of the great policy failures of the 20th Century.
He doesn't want it to be one of the great policy failures of the 21st Century, and the final section o Cannabinomics is devoted to getting us off the schneid when it comes to actually enacting real marijuana law reform. Fichtner has some concrete recommendations for that: a federal cannabis regulatory commission, the federal government to become a cannabis purchaser, a pilot program granting veterans access to medical marijuana through the VA, fast-track approval of Sativex, opening the cannabis trade to legal entrepreneurship, and allowing the states to experiment with new licensing processes for age-restricted substances, including alcohol and tobacco.
Cannabinomics is a humane, thoughtful, and powerful look at how we as a society can better deal with one of our most popular -- and least harmful -- substances. It should be especially useful in bringing those who are not pot advocates but who have a genuine concern about what the best marijuana policies might look like into the discussion. And that makes it a very important work indeed.
(Order this and other new membership premiums by donating to StoptheDrugWar.org

[14]

.)