by Bernd Debusmann, Jr.

Mexican drug trafficking organizations make billions each year smuggling drugs into the United States, profiting enormously from the prohibitionist drug policies of the US government. Since Mexican president Felipe Calderon took office in December 2006 and called the armed forces into the fight against the so-called cartels, prohibition-related violence has killed more than 30,000 people -- as of this week more than 9,000 this year. The increasing militarization of the drug war and the arrest of dozens of high-profile drug traffickers have failed to stem the flow of drugs -- or the violence -- whatsoever. The Merida initiative, which provides $1.4 billion over three years for the US to assist the Mexican government with training, equipment and intelligence, has so far failed to make a difference. Here are a few of the latest developments in Mexico's drug war: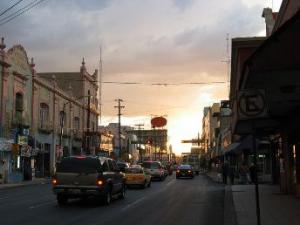 Tuesday, November 2
In Ciudad Juarez,
14 people were killed
[12]
in the city. In one incident, two females and three males allegedly on their way to collect extortion money were intercepted by gunmen traveling in at least five vehicles and killed. Police recovered two grenades from their car. In another incident, a 30-year old man who was recently discharged from a rehab facility was shot outside his home. In another, two men were chased by gunmen and shot.
Friday, November 5
In Matamoros, Tamaulipas,
a powerful Gulf Cartel leader was killed
[13]
during a prolonged gun battle with the Mexican military. Antonio Ezequiel Cardenas Guillen, 48, also known as Tony Tormenta, was the second most important figure in the Gulf Cartel, and the brother of the former boss, Osiel. Two members of Mexico's naval commando unit were killed in the fighting, as was a Matamoros crime reporter. At one point cartel gunmen launched a counter-attack in an effort to break through army lines to rescue Cardenas. At least 55 people were killed in gun battles throughout the city, although some Mexican news sources report figures of at least 100.
Saturday, November 6
In Ciudad Juarez,
18 people were murdered
[14]
in several incidents across the city. In one incident, seven people were gunned down after gunmen stormed a family party.
Sunday, November 7
In Ciudad Juarez,
gunmen shot dead five people inside a bar
[15]
just after midnight. During the attack, gunmen are said to have formed a perimeter around the bar before attacking. The gunmen, who were heavily armed, were led by an unidentified female.
Monday, November 8
In Denver,
35 people were indicted
[16]
for being part of a Sinaloa-cartel affiliated drug trafficking organization which trafficked cocaine from the Ciudad Juarez area. Among the accused are a retired firefight and an assistant college baseball coach. The group is accused of supplying the Denver area with over 40 kilograms of cocaine a week.
Tuesday, November 9
In Veracruz,
the mayor-elect of the small town and two companions
[17]
were kidnapped and murdered. Gregorio Barradas Miravete, who had recently been elected in the municipality of Juan Rodriguez Clara, was forced into a Hummer, and then allegedly driven to Oaxaca, where he and the two other men were killed.
Thursday, November 11
In Acapulco,
gunmen attacked the offices
[18]
of El Sur newspaper. The offices were sprayed with automatic gunfire, but nobody was wounded. El Sur has been extremely criticial of the government of the state of Guerrero, in which Acapulco is located.
Friday, November 12
In Ciudad Mier, Tamaulipas,
hundreds of people fled the city
[19]
after gunmen burned vehicles and businesses. At least 300 people left left town and headed for the nearby city of Miguel Aleman. It is unclear which organization's gunmen were involved in the incident, but the area is currently being fought over by the Gulf Cartel and Zetas.
In Morelos,
police arrested a 12-year old boy
[20]
who is alleged to be a well-known assassin for the Cartel del Pacifico Sur, which is allied to the Zetas organization. Pedro Luis Benitez, also known as El Ponchis, is known for slitting the throats of his victims as part of a unit which also includes several of his sisters. He has appeared in internet videos slitting the throat of one man and posing with several weapons, including an AK-47. Mexican media sources later reported that he was mistakenly released by the army, and is currently being searched for again.
Saturday, November 13
In the city of Chihuahua,
a former high-level prison official was killed
[21]
and his son was wounded after being ambushed by gunmen. Gerardo Torres had been sacked from his post last year for allegedly helping facilitate the escape of several prisoners.
Monday, November 15
In Ciudad Juarez,
at least ten people were
[22]
killed in the city. In one incident, a woman riding a bus to her factory job was killed by a stray bullet from an armed robbery of a gas station. In another incident, two women thought to be involved in car theft were gunned down by men armed with automatic rifles.
Tuesday, November 16
In Tabasco,
two young men were shot and killed
[23]
by soldiers after an incident at an army roadblock. One of the men was 21 and the other was 23. The army is claiming they tried to avoid the roadblock, but the families of the men say they had nothing to hide.
In Culiacan,
a high-ranking police official was found dead
[24]
. Ramon Abel Duarte Navaratte was a member of the police protective service. His predecessor had been assassinated along with three bodyguards.
Total Body Count since the last update: 293
Total Body Count for the year: 9,082
Read the previous Mexico Drug War Update here.