According to final numbers [12] from the California secretary of state, Proposition 19 picked up more than 3.4 million votes even as it lost 46.1% to 53.9%. At a teleconference Wednesday, Prop 19 backers were declaring victory even as they acknowledged they hadn't gone over the top this year. And they announced that they weren't going away.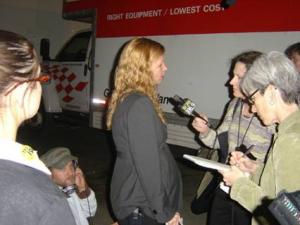 "We won," said former Orange County Superior Court Judge Jim Gray. "The implementation of Prop 19 will be delayed, but the ultimate outcome is not in doubt. I'm encouraged that the end is in sight. Let's get at it!" he declared.
"The l-word has become acceptable," said former LAPD Deputy Chief Steve Downing. "You saw and heard a public debate the likes of which has never been heard in California or the nation. Change requires both compassion and enlightened self interest. The campaign has a good measure of both. Cannabis prohibition is an unjust law, it does more harm than good, and we have finally debunked prohibitionist scare tactics to the point all they had left was to attack the mechanics of the initiative itself," Downing said.
The initiative was attacked by opponents on the right as poorly written and leading to "chaos" because it allowed cities and counties to decide whether to permit, tax, and regulate marijuana in their jurisdictions. It was also attacked within the marijuana movement itself for a number of reasons, though most drug policy reformers regarded the reasons as spurious or reflecting self interest by persons in the medical marijuana trade.
"We have a path forward to make this happen and we will continue this coalition," said Dale Sky Jones, spokesperson for
Yes on 19
[13]
. "I'm very excited about the results from Prop 19. We have a tremendous electorate behind us. This is a matter of not if but when, and we are looking forward to working with state officials to craft new language. We want to bring the opposition to the table," she said. "We are looking for their plan, and we will hold them accountable."
Law Enforcement Against Prohibition
[14]
(LEAP) played a prominent role in the Prop 19 campaign, and former Seattle Police Chief Norm Stamper was on the teleconference to assure listeners that LEAP will continue to work with Prop 19 proponents in the future.
"Police are on the front line of the war on cannabis and are paying a large price in terms of strained police-community relations," he said. "I will encourage them and politicians to say out loud what they have been whispering, that it is time to end marijuana prohibition. They know that the drug war has failed and that cannabis prohibition in particular is a costly absurdity. I will encourage them to move forward from whispered support to full-throated support for ending this prohibition," Stamper vowed.
"I was among those who tried to discourage Richard Lee a year and a half ago from going forward in 2010," said Ethan Nadelmann, executive director of the
Drug Policy Alliance
[15]
, whose political action committee raised more than a million dollars for the campaign. "But he was right. Even if this did not prevail on Election Day, the transformation of the public dialogue nationally and internationally has been stupendous. It has provided an opportunity for leaders in Latin America to say we need a discussion. There has been a transformation in the public dialogue and media coverage unlike anything before. Prop 19 got more votes than Meg Whitman or Carly Fiorina. This is a major, major victory," he declared.
It is on to 2012, said Nadelmann. Marijuana legalization initiatives could be on the ballot in up to five states, he said.
"California looks good in 2012, and so do Washington, Oregon, Colorado and Nevada," Nadelmann prognosticated. "We will go forward where more than 50% of the population support it. The defeat at the polls was a mere bump in the road compared to the positive discussion and the opening up of the debate on marijuana."
Separately,
California NORML
[16]
, which endorsed Prop 19, agreed that legalization is just a matter of time, but that obstacles remain. "It's not a question of whether marijuana will be legalized, but when and how," said CANORML coordinator Dale Gieringer. "The Prop 19 campaign deserves credit for putting legalization on the map, and for attracting important new allies to the movement. This campaign has shown there is an emerging majority for legalization in California. However, it remains to be seen whether an initiative can be written that could attract majority support given the obstacles of federal opposition."
If the California legislature fails to act, marijuana legalization will be back on the ballot, most likely in 2012. Proponents are already working on crafting new language based on the election results, and there are plenty of ideas out there. At least four initiative proposals were floated for this year's election. Now, it's a matter of uniting the movement for the best language possible and crafting language that blunts the opposition's most effective messages.