California's Proposition 19, the tax and regulate marijuana legalization initiative, has been defeated. A little over two hours after the polls closed at 8 pm Pacific Time, the measure is trailing 44% to 56% with 25% of the votes counted, but even the campaign is conceding the loss.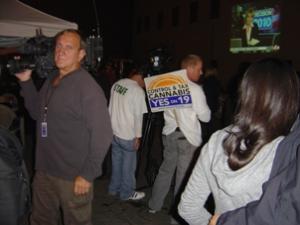 "We appreciate the tremendous victory in pushing this issue forward," said Dale Jones,
Yes on 19
[12]
spokesperson. "We've taken this further than ever before. It's just a matter of taking the next step forward," she told the crowd inside Oaksterdam University, with the video also being projected onto the university's great wall for a crowd of hundreds outside. "We made this happen. This the debate heard 'round the world," she said.
"We are going to keep fighting," Richard Lee said. "We made big breakthroughs with this campaign, with all the allies we've gotten on board," before thanking those arrayed on the stage behind him, including Dan Rush of the UFCW, LEAP, the Drug Policy Alliance's Steve Gutwillig and Ethan Nadelmann, East Bay activist couple Chris Conrad and Mikki Norris, NORML's Allen St. Pierre, a pair of phone bank volunteers, campaign figures Jeff and Dale Jones, and even his mom and dad.
"We have a coalition moving forward, you have not seen the last of the group that brought you Prop 19," Jones said.
"We are going to stay here and keep building," said Rush. "We are going to continue this fight together and across the nation. Next time we're going to take Colorado and Michigan. We're going to keep riding this train.
"This is a watershed moment in a very long struggle to end the decades-long failure of marijuana prohibition in this country," said DPA's Steve Gutwillig. "Tonight was an enormous step in placing this movement in the mainstream of American politics. That's what happened tonight."
Gutwillig vowed that two to five legalization initiatives will be on the ballot in 2012. "Marijuana prohibition is going down," he said.
Maybe in 2012.