Billionaire investor George Soros has donated $1 million to support Proposition 19 [12], a campaign spokesman told the Chronicle Tuesday. The donation came the same day Soros penned an op-ed in the Wall Street Journal [13] saying he supported the marijuana legalization initiative.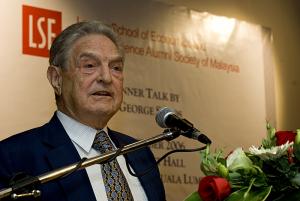 The donation was made to the Drug Policy Action Committee to Tax and Regulate Marijuana, a pro-Prop 19 fund controlled by the
Drug Policy Alliance
[14]
(DPA), said Tom Angell, a spokesman for
YesOn19
[12]
. Tony Newman, a spokesman for DPA confirmed the donation.
It is unclear how the money will be spent, but both proponents and opponents of the measure have begun limited TV and radio ad buys as the clock ticks down toward election day.
The measure would legalize the possession of up to an ounce of marijuana by adults 21 or over. It would also allow them to grow up to 25 square feet of pot and possess the resulting harvest. Cities and counties would have the local option of permitting, taxing, and regulating marijuana sales and cultivation.
The race is very close. The
Talking Points Memo Polltracker
[15]
, based on the average of all polls taken on Prop 19 this year, now has the measure trailing by one percentage point. Last minute ad campaigns and get out the vote efforts could make the difference between victory and defeat.