Michigan could become the first state in the nation to drug test drivers if a Republican lawmaker has his way. Last week, Rep. Rick Jones (R-Grand Lodge) announced he was filing a bill that would allow police officers to administer roadside drug tests if they have probable cause.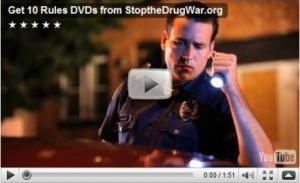 Jones, a former sheriff, said the roadside tests could replace what is now an expensive and time-consuming process. Currently, officers who want to test drivers for drugs must get a search warrant to take a blood sample, which is then tested by backlogged state crime labs.
"A portable drug testing kit would be an extremely powerful tool to keep unsafe drivers off our streets. With a portable kit, officers will know in minutes whether the driver is high on drugs," Jones said in a
statement
[12]
.
"The kit has the potential to save a great deal of tax dollars by reducing the need for state crime labs to do many tests," Jones continued. "Patrol officers now have to make a judgment call whether they believe a driver is under the influence of drugs. Science has now caught up with the need, and our patrol officers should have the option of using this valuable public safety tool."
Under the proposal, suspected drugged drivers would have to submit to a preliminary saliva drug test that can detect six kinds of drugs, including marijuana, methamphetamines, and cocaine. If the preliminary test, which produces results in minutes, came back positive, additional testing would occur.
The motivation for Jones' bill appears to be his opposition to the state medical marijuana law, enacted by the will of the voters in 2008. Last month, he introduced a bill that would bar medical marijuana "clubs and bars" throughout the state. In a
statement
[13]
then, the former sheriff worried about "clubs where users could get high and drive away, endangering people."
Jones' legislation is actually a three-part package, with House Bill 6430 covering motor vehicles, HB 6431 covering snowmobiles and ATVs, and HB 6432 covering trains.
[Ed: Along with the civil liberties issues, this proposal deserves scrutiny based on the drug test technology in use as well. Research has found that field drug tests commonly in use by police generate frequent false positives, sometimes from mere exposure to air

[14]

.]