A decade ago, scientists, researchers, and AIDS activists confronted a sitting president in South Africa who denied that AIDS was caused by HIV. They responded by declaring at the 2000 Durbin AIDS conference that the evidence was in and the matter was settled. Now, with the Vienna AIDS conference coming up later this month, they are at it again -- only this time the target is the war on drugs.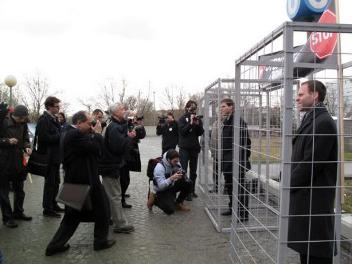 Their weapon is the
Vienna Declaration
[20]
, an official conference statement authored by experts from the
International AIDS Society
[21]
, the
International Center for Science in Drug Policy
[22]
, and the
British Columbia Center for Excellence in HIV/AIDS
[23]
. The document is a harsh indictment of the global drug war that calls for evidence-based policymaking. It demands that laws which criminalize drug users and help fuel the spread of AIDS be reformed.
The authors of the Vienna Declaration want you to sign on, too. You can do so at the web site linked to above.
"The criminalization of illicit drug users is fueling the HIV epidemic and has resulted in overwhelmingly negative health and social consequences. A full policy reorientation is needed," they said in the declaration.
Arguing there is "overwhelming evidence that drug law enforcement has failed to meet its stated objectives," the declaration lays out the consequences of the drug war:
HIV epidemics fueled by the criminalization of people who use illicit drugs and by prohibitions on the provision of sterile needles and opioid substitution treatment.
HIV outbreaks among incarcerated and institutionalized drug users as a result of punitive laws and policies and a lack of HIV prevention services in these settings.
The undermining of public health systems when law enforcement drives drug users away from prevention and care services and into environments where the risk of infectious disease transmission (e.g., HIV, hepatitis C & B, and tuberculosis) and other harms is increased.
A crisis in criminal justice systems as a result of record incarceration rates in a number of nations. This has negatively affected the social functioning of entire communities. While racial disparities in incarceration rates for drug offenses are evident in countries all over the world, the impact has been particularly severe in the US, where approximately one in nine African-American males in the age group 20 to 34 is incarcerated on any given day, primarily as a result of drug law enforcement.
Stigma towards people who use illicit drugs, which reinforces the political popularity of criminalizing drug users and undermines HIV prevention and other health promotion efforts.
Severe human rights violations, including torture, forced labor, inhuman and degrading treatment, and execution of drug offenders in a number of countries.
A massive illicit market worth an estimated annual value of US $320 billion. These profits remain entirely outside the control of government. They fuel crime, violence and corruption in countless urban communities and have destabilized entire countries, such as Colombia, Mexico and Afghanistan.
Billions of tax dollars wasted on a "War on Drugs" approach to drug control that does not achieve its stated objectives and, instead, directly or indirectly contributes to the above harms.
"Many of us in AIDS research and care confront the devastating impacts of misguided drug policies every day," said Julio Montaner, president of the International AIDS Society and director of the BC Center for Excellence in HIV/AIDS. "As scientists, we are committed to raising our collective voice to promote evidence-based approaches to illicit drug policy that start by recognizing that addiction is a medical condition, not a crime," added Montaner, who will serve as chairman of the Vienna conference.
"There is no positive spin you can put on the war on drugs," said Dr. Evan Wood, founder of the International Center for Science in Drug Policy. "You have a $320 billion illegal market, the enrichment of organized crime, violence, the spread of infectious disease. This declaration coming from the scientific community is long overdue. The community has not been meeting its ethical obligations in terms of speaking up about the harms of the war on drugs."
Stating that governments and international organizations have "ethical and legal obligations to respond to this crisis," the declaration calls on governments and international organizations, including the UN to:
Undertake a transparent review of the effectiveness of current drug policies.
Implement and evaluate a science-based public health approach to address the individual and community harms stemming from illicit drug use.
Decriminalize drug users, scale up evidence-based drug dependence treatment options and abolish ineffective compulsory drug treatment centers that violate the Universal Declaration of Human Rights.
Unequivocally endorse and scale up funding for the implementation of the comprehensive package of HIV interventions spelled out in the WHO, UNODC and UNAIDS Target Setting Guide.
Meaningfully involve members of the affected community in developing, monitoring and implementing services and policies that affect their lives.
We further call upon the UN Secretary-General, Ban Ki-moon, to urgently implement measures to ensure that the United Nations system -- including the International Narcotics Control Board -- speaks with one voice to support the decriminalization of drug users and the implementation of evidence-based approaches to drug control.
"This is a great initiative," enthused Ethan Nadelmann, executive director of the Drug Policy Alliance [24]. "It is the most significant effort to date by the sponsors of the global AIDS conference to highlight the destructive impact of the global drug war. It is nicely coordinated with The Lancet to demonstrate legitimacy in the medical community. And it is relatively far reaching given that the declaration was drafted as a consensus statement."
"This is aimed at politicians, leaders of governments, the UN system, and it's aimed at housewives. We are trying to do basic education around the facts on this. There are still politicians who get elected vowing to crack down on drugs," said Wood. "While the declaration has a global aim and scope, at the end of the day, the person who is going to end the drug war is your average voter, who may or may not have been affected by it," he said.
"This was needed a long time ago," said Wood. "The war on drugs does not achieve its stated objectives of reducing the availability and use of drugs and is incredibly wasteful of resources in locking people up, which does little more than turn people into hardened criminals," he said.
The authors are hoping that an official declaration broadly endorsed will help begin to sway policy makers. "It will be interesting to see what kind of support it receives," said Wood. "Former Seattle Police Chief Norm Stamper has endorsed it, and we have a 2008 Nobel prize winner for medicine on the web site. There are high level endorsements, and more are coming. Whether we touch a nerve with the news media remains to be seen. I am hoping it will have a big impact since this is the official conference declaration of one of the largest public health conferences on the planet."
"We have reached a tipping point in the conversation about drugs, drug policy, drug law enforcement, and the drug war," said Stamper, now a member of Law Enforcement Against Prohibition [25]. "More and more, science has found its way into the conversation, and this is one step to advance that in some more dramatic fashion. I've heard much from the other side that is emotional and irrational. This is one effort to create even more impetus for infusing this dialogue on drug policy with evidence-driven, research-based findings."
That the AIDS conference is being held in Vienna adds a special fillip to the declaration, Wood said. "Vienna is symbolically important because it is where the infrastructure for maintaining the global war on drugs is located," said Woods, "and also because of the problems in Eastern Europe. In Russia, it's estimated that one out of every 100 adults is infected with the AIDS virus because Russia has not embraced evidence-based approaches. Methadone maintenance therapy is illegal there, needle exchanges are severely limited, the treatment programs are not evidence-based, and there are all sorts of human rights abuses around the drug war."
With the AIDS conference set to open July 18, Wood and the other authors are hoping the momentum will keep building up to and beyond. "It is my hope that now that the Vienna Declaration is online, large numbers of people will come forward and lend their names to this effort," he said.
The Vienna Declaration is one more indication of just how badly drug war orthodoxy has wilted under the harsh gaze of science. It's hard to win an argument when the facts are against you, but as the declaration notes, there are "those with vested interests in maintaining the status quo." The declaration should make their jobs that much more difficult and bring progressive approaches to drug policy that much closer.