A 21-year-old father-to-be was killed last Friday night [12] by a Las Vegas Police Department narcotics officer serving a search warrant for marijuana. Trevon Cole was shot once in the bathroom of his apartment after he made what police described as "a furtive movement."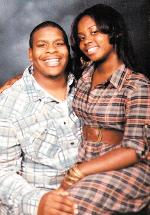 Police have said Cole was not armed. Police said Monday they recovered an unspecified amount of marijuana and a set of digital scales. A person identifying herself as Cole's fiance, Sequoia Pearce, in the comments section in the article linked to above said no drugs were found.
Pearce, who is nine months pregnant, shared the apartment with Cole and was present during the raid. "I was coming out, and they told me to get on the floor. I heard a gunshot and was trying to see what was happening and where they had shot him," Pearce told KTNV-TV [13].
According to police, they arrived at about 9:00pm Friday evening at the Mirabella Apartments on East Bonanza Road, and detectives knocked and announced their presence. Receiving no response, detectives knocked the door down and entered the apartment. They found Pearce hiding in a bedroom closet and took her into custody. They then tried to enter a bathroom where Cole was hiding. He made "a furtive movement" toward a detective, who fired a single shot, killing Cole.
"It was during the course of a warrant and as you all know, narcotics warrants are all high-risk warrants," Capt. Patrick Neville of Metro's Robbery-Homicide Bureau said Friday night.
Actually, narcotics warrants are fairly low-risk for police [14], if the numbers are a guide. With 1.5 million drug arrests per year, an average of just four police officers per year lost their lives conducting them during the past decade. Last year, no police officers were killed during drug raids.
A person identifying himself as Pearce's brother, who said he had spoken with his sister, had a different version of events from the police: "The police bust in the door, with guns drawn to my little sister and her now deceased boyfriend," he wrote. "My sister is 8 1/2 months pregnant, two weeks until the due date. But they bust in the door, irritated they didn't find any weapons or drugs, drag this young man into the restroom to interrogate him and two minutes later my sister hears a shot. They shot him with a shotgun, no weapon. For what? My sister is a baby, this young man is a baby, now my sister is at his house telling his mom her son is dead, and he is barely 21."
Pearce herself told the Las Vegas Review-Journal [15] Monday that police forced her to kneel at gunpoint in the bedroom and that she could see Cole in the bathroom from the reflection of a mirror. According to Pearce, police ordered Cole to get on the ground, he raised his hands and said "Alright, alright," and a shot rang out.
According to Pearce and family members, Cole had no criminal record, had achieved an Associate of Arts degree, and was working as an insurance adjustor while working on a political science degree at the University of Nevada-Las Vegas. He was not a drug dealer, Pearce said.
"Trevon was a recreational smoker. He smoked weed, marijuana. That's what he did," she told KTNV-TV. "They didn't have to kill him. We were supposed to get married next year, plan a black and white affair," she said. "He was all I ever knew, we were gonna make it."
LVPD Monday identified the police shooter as narcotics detective Bryan Yant [15], a 10-year veteran of the force. This is the third time Yant has controversially used his police firearm. In 2002, he shot and killed a robbery suspect, claiming the suspect, who was on the ground, aimed a weapon at him. But although the suspect's gun was found 35 feet away, coroner's inquest took only half an hour to find the shooting justified.
The following year, he shot and wounded a man armed with a knife and a baseball ball who had been hired to kill a dog that had killed another neighborhood dog. Yants claimed the man attacked him and that he mistook the bat for a shotgun, but the man said he was running away from Yants when Yants fired repeatedly, striking him once in the hip. Because there was no death in that case, no inquest was held, but the department's use of force board exonerated Yants.
By Wednesday, anonymous law enforcement "sources" were feeding derogatory information about Cole [16] to at least one local media outlet, KTVN-TV, which was happy to repeat it. "Sources" told the TV station Coles' "furtive movement" was "threatening enough detective Yant fired his AR-15 rifle once, hitting Cole, who had been flushing marijuana down the toilet." "Sources" added that the undercover officers had bought pot from Cole four times, although there was no name on the search warrant. (Coles and Pearce had only moved into the apartment a month earlier.) "Sources" also told the TV station police were extra cautious because undercover officers "were investigating another possible deal with Cole, involving cocaine and guns."
Time will tell if there is a scintilla of fact in anything these "sources" are selling. In the meanwhile, Yants is on paid administrative leave while the department investigates, and the family has hired an attorney to pursue a civil action. And another American has apparently been killed for no good reason in the name of the war on drugs.