Family values crusader and drug war zealot Rep. Mark Souder (R-IN) announced Tuesday he was resigning from Congress after admitting to an affair with a female staffer. The bombshell announcement came at a Capitol Hill press conference. (See Souder give his statement here [13]).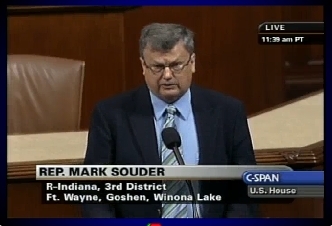 Adding to the irony of the moralizing conservative's downfall, the staffer with whom he had the affair, Tracy Jackson, worked together with him on one of Souder's pet passions: promoting abstinence education. They even created a
video
[14]
in which the pair of them discuss his efforts to promote abstinence. The various copies of that video on YouTube have had more than 100,000 views as of Tuesday night.
"I sinned against God, my wife and my family by having a mutual relationship with a part-time member of my staff," Souder said in the statement. "In the poisonous environment of Washington, DC, any personal failing is seized upon, often twisted, for political gain," he said. "I am resigning rather than to put my family through that painful, drawn-out process."
Souder's enthusiasm for the war on drugs [15] led him to the chairmanship of the House Government Reform Subcommittee on Criminal Justice, Drug Policy and Human Resources from 2001 to 2007, where he used his position to support harsh drug policies. He was, for instance, a staunch foe of medical marijuana and a loud voice against the Hinchey-Rohrabacher amendments, which would, if passed, have stopped federal raids on medical marijuana patients and providers.
Even before attaining the chairmanship, Souder gained notoriety among drug reformers, educators, and civil libertarians for authoring a provision of the Higher Education Act that denied federal financial assistance to students convicted of a drug law violation, no matter how minor.
Souder's "smoke a joint, lose your federal aid" provision resulted in more than 200,000 students being denied college grants and loans. It also resulted in the formation of Students for Sensible Drug Policy [16], which has played a key role in the ongoing Coalition for Higher Education Act Reform [17]. A partial reform -- actually supported by Souder, whether sincerely or out of pressure -- in 2006 rolled back the provision to include only offenses while the student was enrolled in college. A reform this year that would have limited the provision only to drug sales offenses was derailed after the education package it was part of got added to the health care reform bill, getting deleted along with other provisions that Democrats feared could trigger a procedural challenge.
We will skip the schaudenfreude, although Souder richly deserves it, and merely take heart in knowing one of the most poisonous of the cultural conservative drug warriors has taken himself out of the game.
thanks for the memories:
former SSDP executive director Shawn Heller confronts Mark Souder after a financial aid forum in his district, aired on all the local news channels
somewhere in this documentary Mark Souder slams the door on MPP lobbyist Aaron Houston, refusing to discuss medical marijuana
Souder complains about student groups "harassing him across the country"