Medical marijuana advocates in Wisconsin have been working for a decade to get a bill passed there, and now they will have to wait at least one more year. The legislative session ended Thursday without the Assembly taking a vote on a bill that had already passed the Senate.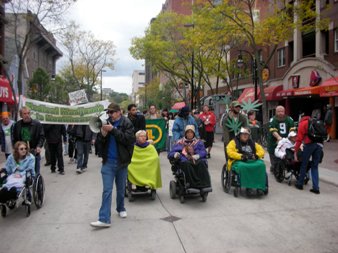 Rep. Mark Pocan (D-Madison), one of the main sponsors of the bill, issued a statement saying the bill would not go to the Assembly floor. "It is disappointing to many of us, myself included, that the legislature did not pass medical marijuana this session," he said. "But as I have assured the patient advocates, our efforts enjoyed many successes this year and we came closer to our goal than ever before. This fight is far from over because this issue is far too vital for too many people."
Medical marijuana patient and advocate Gary Storck of Is My Medicine Legal Yet? [11], the group leading the fight for the bill, told the University of Wisconsin independent daily The Badger Herald [12] that while he was disappointed, he and others would be working through the summer to get referenda on local ballots in support of the issue and may even target specific legislators for defeat. "There's a lot of people in the legislature who just don't get it," Storck said. "We've come to the conclusion that if you can't change the law, maybe you have to change the legislature."
Storck speculated that many solons have errant perceptions of marijuana's harmfulness. "They've been so brainwashed that marijuana is some kind of dangerous, illegal drug, that it's hard for them to think outside the box," Storck said. "Cannabis won't kill you; it won't cause permanent damage. It's definitely something that should be out there."
Look for Storck and IMMLY to be back at again next year, and busy in the meantime laying the groundwork.