The Vancouver Olympic Games [11] are getting underway today, and along with thousands of athletes and an estimated half a million visitors from around the world, the harm reduction community will also be there. A consortium of local, national, and international harm reduction and advocacy groups have crafted a campaign called SafeGames 2010 [12] to bring harm reduction theory and practice to the forefront during the Olympic games.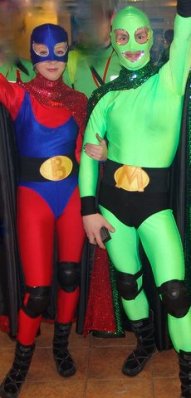 In addition to bringing harm reduction messages to the Olympic masses, the campaign may help serve as a corrective to the drop-in international media, who come to Vancouver for the Olympics, then look around for local stories to cover, and then discover the city's Downtown Eastside with shock and dismay. The Downtown Eastside is home to one of the largest and densest concentrations of hard drug users in the hemisphere and has the appearance of a Skid Row. But it is also home to the innovative harm reduction and other drug policies that have put Vancouver on the cutting edge of drug reform.
Led by Vancouver's Keeping the Door Open Society [13], SafeGames 2010 will provide an array of resources, including tips on safe sex and reducing the harm associated with drug and alcohol consumption, in a bid to keep the Olympic community safe and protected. The campaign has the added benefit of highlighted Vancouver's progressive stance on drug policy and harm reduction.
"Vancouver is a community that respects its citizens for who they are," said Gillian Maxwell, head of Keeping the Door Open and project director for the SafeGames 2010 project. "Over the last decade, Vancouver has paved the way for some of its most marginalized community members, including people who use drugs, are in the sex trade, are living with HIV/AIDS, and those with mental health issues and other concerns, to be treated with respect and dignity."
The campaign kicked off Wednesday with a press conference featuring Maxwell, several Vancouver and British Columbia officials, and a trio of caped and costumed superheroes: Methadone Man, Buprenorphine Babe, and Captain Condom. The superheroes will be among the 200 volunteers handing out 20,000 "safe kits" containing condoms, lube, hand heaters, glow sticks, and DVDs, as well as information about the sex trade in the city and referrals to local service providers to people attending Olympic events and visiting the city's sure-to-be bustling night life districts.
The campaign's web site also provides a range of local resources and contacts to connect visitors with harm reduction services available in the area, such as the city's InSite [14] safe injection site, the only one in North America. The web site also provides informational videos and handouts, as well as information on various SafeGames members.
Vancouver Police Inspector Scott Thompson told the press conference that while Vancouver police don't support drug use, they do support SafeGames 2010. "Unfortunately, people are going to engage in activities like this. And the goal would be that when they do that, we want them to be safe when they do it."
This isn't the first time harm reductionists have worked the Olympics. During the 2002 Olympics in Salt Lake City, harm reductionists led by SafeGames campaign founder Luciano Colonna undertook a similar program there. But the campaign is only getting better, said Colonna.
"Our partners -- from HIM [15], which works to strengthen the health of gay men, to the SafeVibe campaign [16] of Women Against Violence Against Women, to InSite, have been working overtime to respond to the harm reduction needs of those coming here for the games," he said.
"This is harm reduction for the mainstream," said Maxwell. "We will be outreach workers, going out in teams to bar and party areas and handing out the safe kits. There are a whole range of things that people do that can be risky, and we say do it safely. What I like most about the campaign is that we are explaining harm reduction in many different ways, and you can't really argue with any of them. We are going to be getting out some very good public health messages," Maxwell said.
SafeGames isn't the only one doing some harm reduction work for the Vancouver Olympics. The city of Vancouver has announced it will hand out 100,000 condoms on its own.
For Maxwell, SafeGames is not just about harm reduction at the Games. It's also about educating people about the Downtown Eastside and what goes on there. "Every city has that sort of thing," she said, "but ours is very open and big, with thousands of people. It could be hard to take if you're from a different culture, but we're thinking it's a great opportunity to educate people. We're even talking about doing some tours of the Downtown Eastside."
As the countdown to the Olympics draws to end, Maxwell could feel the excitement building. "A lot of people were against spending the money it costs to have the Olympics here, and I'm not really into it myself, but there is a real buzz on downtown now," she said. "There are all these young athletes, and this is their dream, and here they are. You can't help but notice the vibe."
And maybe, thanks to SafeGames 2010, some of those athletes and the crowds who come to cheer them on won't be able to help but notice the harm reduction messages and messengers circulating among them.