The Russian government announced Thursday [12] that it has added a number of substances to its controlled substance list and banned their sale. The substances include salvia divinorum, Hawaiian wood rose, Blue Lotus flowers, and 23 different synthetic cannabinoids. Many of the substances are used in "smoking mixes" by users seeking psychoactive effects.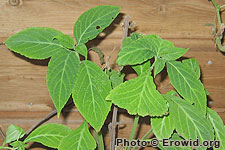 The ban had its genesis in a proposal by the Ministry of Public Health and Social Development last month. The ministry proposed tightening controls over the sale and consumption of smoking mixes and submitted its proposal to the government for coordination.
Salvia is already banned in a number of countries, including Australia, Belgium, Denmark, Estonia, Finland, Italy, Japan, Spain, and Sweden. It is not illegal under US federal law, but its sales have been banned or restricted in about a dozen states. Synthetic cannabindoids, marketed under names like "K2" and "Spice" have been banned in Austria, Germany, the Netherlands, and Switzerland. A move is afoot in the Kansas legislature to ban them there.