The drug war corrodes the integrity of law enforcement in multiple ways, as we see this week: Testilying, sexual extortion, thievery, and the usual just plain old corrupt practices. Let's get to it: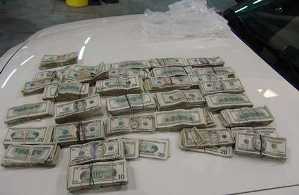 In Atlanta,
federal prosecutors recently dropped charges
[10]
accusing a felon of possessing a handgun after a US magistrate testimony from the Atlanta narcotics squad "less than candid." Members of the Atlanta police Red Dog drug unit testified that they pulled the man over after driving past his car and smelling marijuana. They said after the stop that they found a gun in the car. But US Magistrate Linda Walker suppressed the evidence, saying she could not believe the officers had actually smelled marijuana coming from the passing vehicle and thus had no legal reason to stop his vehicle. That's what's known as testilying.
In Medina, Washington, a Medina police officer was arrested October 29 [11] for having sex with a woman he arrested in return for arranging to get her marijuana possession charges dropped. Officer Ismael Garcia Ramirez is charged with official misconduct in the incident, which began when he pulled over the woman for driving on a suspended license. Garcia Ramirez then found marijuana in the car and said he arranged to meet with the woman later for sex. He promised to have her charged dropped, prosecutors said. The woman said the sex was not consensual.
In Lawrenceville, Georgia, two former Gwinnett County Sheriff's Office narcotics investigators were arrested for unrelated offenses October 29 [12]. Major David Butler, head of the narcotics and vice units until he resigned under pressure earlier this year, is charged with using a county credit card to buy unspecified items at an adult novelty store and to pay for a motel room. He is also charged with stealing $4,000 from the department's dope buy cash stash. He's out on $20,000 bail. Former narc Vennie Harden is charged with three counts of first-degree forgery and one count of violation of oath of office for forging a supervisor's name on a form authorizing payment of county funds between February and April of this year. He's out on $11,800 bail.
In Philadelphia, a former Philadelphia police officer was hit with more federal charges Wednesday [13]. He had earlier been charged in an alleged violent plot to steal $1.5 million from a cocaine dealer. Former officer Alhinde Weems, 34, was charged Wednesday with conspiracy to commit robbery, drug distribution, and more. According to prosecutors, Weems twice distributed crack cocaine between December 2008 and January 2009, and attempted to peddle a kilogram of cocaine. Weems has behind bars since March, when he was charged in a plot to dress as a detective, enter a drug dealer's home, rob him, and shoot him if necessary. He is being held without bail.
In Miami, a former Miami Dade police officer was sentenced last Friday [14] to two years in federal prison for participating in a drug smuggling conspiracy that was actually an FBI sting. Former officer Jorge Delgado, 31, admitted using his patrol car to protect what he thought was a shipment of Ecstasy in exchange for $2500. He pleaded guilty in July to aiding and abetting an attempt to possess Ecstasy with the intent to distribute. He could have gotten up to 20 years.
In Brownsville, Texas, a former US Customs and Border Protection officer was sentenced Wednesday [15] to more than 11 years in federal prison for taking bribes to allow illegal immigrants and illicit drugs to pass into the country. Sergio Lopez Hernandez, 41, pleaded guilty in April to taking more than $150,000 in bribes to let car loads of people and drugs pass through his lane on the B&M International bridge between Brownsville and Matamoros, Mexico.