In a new federal medical marijuana policy memo [13] issued Monday to the DEA, FBI, and US Attorneys around the country, the Justice Department told prosecutors that medical marijuana patients and providers in states where it is legal should not be targeted for federal prosecution unless they are violating state law. The memo formalizes statements made by Attorney General Eric Holder in February and March that going after pot-smoking patients and their suppliers would not be a high Justice Department priority .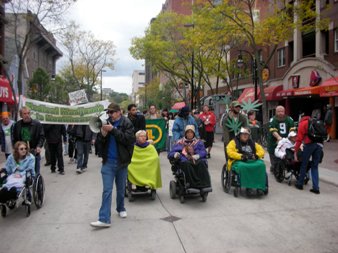 The memo marks a sharp break with federal policy under the Clinton and Bush administrations, both of which aggressively targeted medical marijuana operations, especially in California, the state that has the broadest law and the highest number of medical marijuana patients.
The announcement of the policy shift won kudos from the marijuana and broader drug reform movement. But some reformers questioned what the shift would actually mean on the ground, pointing to DEA raids and federal prosecutions that have occurred since Holder's signal this spring that the feds were to back off, as well as continuing controversies, especially in California, over what exactly is legal under state law. Others noted that for real protection to be in place, federal law -- not just prosecutorial policy -- needs to change.
Not everyone was pleased with the move. Comments critical of the move have come down from some conservative politicians and a handful of newspaper editorial boards. But they appear to be a distinct minority.
In the memo, federal prosecutors were told that going after people who use or provide medical marijuana in accordance with state law was not the best use of their time or resources. According to the memo, while the Justice Department continues to make enforcing federal drug laws a key mission:
"As a general matter, pursuit of these priorities should not focus federal resources in your States on individuals whose actions are in clear and unambiguous compliance with existing state laws providing for the medical use of marijuana. For example, prosecution of individuals with cancer or other serious illnesses who use marijuana as part of a recommended treatment regimen consistent with applicable state law, or those caregivers in clear and unambiguous compliance with existing state law who provide such individuals with marijuana, is unlikely to be an efficient use of limited federal resources."
But the memo also said that federal prosecutors should continue to target marijuana production or sales operations that are illicit but hiding behind state medical marijuana laws. It explicitly singled out cases which involve violence, the illegal use of firearms, selling pot to minors, money laundering or involvement in other crimes.
"It will not be a priority to use federal resources to prosecute patients with serious illnesses or their caregivers who are complying with state laws on medical marijuana, but we will not tolerate drug traffickers who hide behind claims of compliance with state law to mask activities that are clearly illegal," said Attorney General Holder.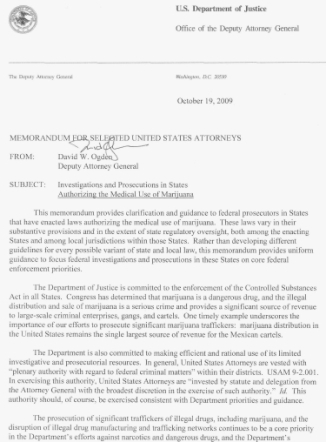 Head of the
Office of National Drug Control Policy
[14]
Gil Kerlikowske was quick to point out that the memo didn't legalize marijuana or medical marijuana, and that prosecutions could continue. "It is important to recognize that these guidelines provide clarity for federal prosecutors regarding the appropriate use of federal resources," he said in a
statement Monday
[15]
. "They do not declare marijuana, whether 'medical' or not, as legal under federal law; nor do they preclude the appropriate prosecution, under federal law, of marijuana dispensaries in those states that allow them. The Department of Justice's guidelines strike a balance between efficient use of limited law enforcement resources, and a tough stance against those whose violations of state law jeopardize public health and safety. Enforcing the law against those who unlawfully market and sell marijuana for profit will continue to be an enforcement priority for the US government," the drug czar warned.
The DEA was also quick to point out that while it "welcomes" the new guidelines, it will continue to go after "criminals." "These guidelines do not legalize marijuana," the agency said in a Thursday statement. "It is not the practice or policy of DEA to target individuals with serious medical conditions who comply with state laws authorizing the use of marijuana for medical purposes. Consistent with the DOJ guidelines, we will continue to identify and investigate any criminal organization or individual who unlawfully grows, markets or distributes marijuana or other dangerous drugs. Those who unlawfully possess firearms, commit acts of violence, provide drugs to minors, or have ties to other criminal organizations may also be subject to arrest."
Despite the disclaimers and demurrals, patient advocates hailed the move. "This is a huge victory for medical marijuana patients," said Steph Sherer, executive director of Americans for Safe Access [16], the nationwide medical marijuana advocacy organization, which had been in negotiations with the Justice Department to get written guidelines issued. "This indicates that President Obama intends to keep his promise not to undermine state medical marijuana laws and represents a significant departure from the policies of the Bush Administration," continued Sherer. "We will continue to work with President Obama, the Justice Department, and the US Congress to establish a comprehensive national policy, but it's good to know that in the meantime states can implement medical marijuana laws without interference from the federal government."
"This is the most significant, positive policy development on the federal level for medical marijuana since 1978," said the Marijuana Policy Project [17] in a message to its list members Monday.
"It's great to see the Obama administration making good on the promises that candidate Obama made last year. These new guidelines effectively open the door to sensible collaboration between state governments and medical marijuana providers in ensuring that patients have safe and reliable access to their medicine," said Ethan Nadelmann, executive director of the Drug Policy Alliance [18]. "What remains unclear is how the Justice Department will respond to rogue state attorneys, such as San Diego's Bonnie Dumanis, who persist in undermining state medical marijuana laws in their local jurisdictions. Now is the right time for the Obama administration to move forward with federal legislation to end the irrational prohibition of medical marijuana under federal law."
While the policy memo was "encouraging," the "proof will be in the pudding," said California NORML [19] head Dale Gieringer, who also cited the recent raids in San Diego [20], as well as the August federal indictment of two Lake County medical marijuana providers. "Note that the new Obama policy has a glaring loophole, emphasizing that 'prosecutors have wide discretion in choosing which cases to pursue, and... it is not a good use of federal manpower to prosecute those who are without a doubt in compliance with state law,'" Gieringer said. "The salient question is, who decides what is 'without a doubt' in compliance with state law? As shown by the recent statements of LA's DA and City Attorney [21], there exist significant doubts about the legality of most dispensaries in California. It remains to be seen how far the administration's new policy guidelines will go to prevent further abuses, when what is really needed is fundamental reform of federal laws and regulations."
Iowa Republican Sen. Chuck Grassley was not concerned about the subtleties of the policy shift as much as he was about turning a blind eye to a violation of federal law. "I think that marijuana is a gateway to harder drug use," Grassley said in a Wednesday statement [22]. "Medical marijuana brings a certain amount of legitimacy to an illegal drug, even though it attempts to do it in a legal way. We have a federal law that is intended to outlaw its use. That federal law ought to be enforced. It was enforced in the previous administration and I think having a national program against drug use is very, very important."
Demonstrating a lack of information about who is supplying California medical marijuana dispensaries, Grassley attempted to link them to Mexican drug cartels. While some medical marijuana providers may be acting legally under state law, he said, "most of the marijuana that flows into the United States comes from the drug lords."
But Grassley appeared to be fighting a lonely rear-guard action. In what may be a sign that even politicians in Washington understand the popularity of medical marijuana, the Obama administration move has generated little other critical comment from the right or from the mainstream media. While numerous newspaper editorial boards have come out in favor of the move, the Christian Science Monitor [23] was nearly alone among major newspapers in condemning it.
And so opens the next chapter in America's long, twisted path to the acceptance of medical marijuana.