Last month, a Romanian presidential committee recommended decriminalizing [12] the possession of "soft" drugs, implementing needle exchange programs, and legalizing prostitution. A poll this month suggests the committee and President Traian Băsescu have some work to do in winning over the Romanian public -- at least on the drugs issue.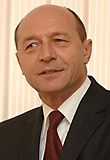 According to a
poll conducted by eResearch Corporation
[13]
, an Angus-Reid affiliate, only 34% of Romanians agree with decriminalization, while 59% oppose it.
Băsescu came to power in 2004 as head of the Alliance for Truth and Justice, a coalition consisting of the Democratic and National Liberal parties, and vowed to institute reforms in the former communist satrapy. His Presidential Committee for the Analysis of Social and Demographic Risk was part of that pledge.
"Drug abuse needs to be discouraged, but with the adequate difference made between soft drugs and hard drugs, especially the ones injected such as heroin, which have devastating negative effects," the report said. But the report also called for "disincrimination (sic) of drug consumption -- but not of trafficking -- to bring consumers to the surface."
According to another eResearch poll [14], Romanians are going for bringing sex work in from the cold. That poll found that 56% supported legalizing prostitution, while only 37% opposed it.