Drug courts have spread all across the country since the first one was instituted in Miami 20 years ago by then local prosecutor Janet Reno, but now, the nation's largest group of criminal defense attorneys says they have become an obstacle to cost-effective drug treatment and a burden on the criminal justice system. In a report released Tuesday, America's Problem-Solving Courts: The Criminal Costs of Treatment and the Case for Reform [17], the National Association of Criminal Defense Attorneys (NACDL) argued that drug addiction should be considered a public health problem, outside the criminal justice arena.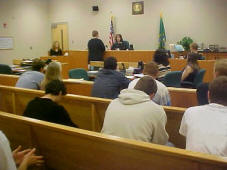 More than 2,100 drug courts are now in operation in the US, the group noted, but they have had no noticeable impact on drug use rates or arrests. Furthermore, the courts, which empower judges and prosecutors at the expense of defendants and their attorneys, too often limit treatment to "easy" offenders while forcing "hard cases" into the jails or prisons.
Minorities, immigrants, and poor people are often underrepresented in drug court programs, leaving them to rot behind bars at taxpayer expense. Drug courts also mean that access to drug treatment comes at the cost of a guilty plea, the group said.
"Today's drug courts have been operating for over 20 years yet have not stymied the rise in both drug abuse or exponentially increasing prison costs to taxpayers," said NACDL president Cynthia Orr. "It is time for both an extensive review of these courts and for the average American to ask themselves: Is our national drug policy working, and perhaps it is a public health concern rather than a criminal justice one?"
In the report, NACDL recommended the following reforms:
Treating substance abuse as a public health issue rather than a criminal justice one;
Opening admission criteria to all those who need, want and request treatment;
Enforcing greater transparency in admission practices and relying on expert assessments, not merely the judgment of prosecutors;
Prohibiting the requirement of guilty pleas as the price of admission;
Urging greater involvement of the defense bar to create programs that preserve the rights of the accused;
Considering the ethical obligations of defense lawyers to their client even if they choose court-directed treatment; and
Opening a serious national discussion on decriminalizing low-level drug use.