Responding to years of agitation by harm reductionists and public health advocates, the Pennsylvania Board of Pharmacy Saturday published new regulations [13] that will allow pharmacies to sell syringes without a prescription. The change goes into effect immediately. The move was lauded by activists as a significant public health victory in the battle against the spread of HIV/AIDS and Hepatitis C via injection drug use.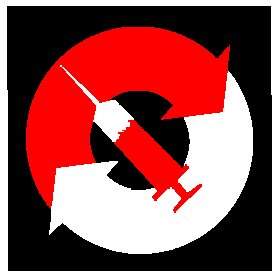 Under previous regulations, pharmacies could sell syringes only to people who obtained a doctor's prescription. The new regulations carry no limit on the number of syringes that can be purchased at a time, nor do they have age limits.
"This change is particularly important in Pennsylvania because we have only two locations -- Pittsburgh and Philadelphia -- in which legally authorized syringe exchange programs operate," said David Webber, an attorney for the AIDS Law Project of Pennsylvania [14]. "These two programs alone are simply not adequate to address this problem across the entire state, but syringe exchange programs continue to be crucial in providing sterile syringes as well as access to drug treatment and health care for injection drug users."
"This is a chance for every pharmacy to become part of HIV prevention in Pennsylvania," said Scott Burris, professor at Temple University's School of Law and a national authority on syringe regulation and HIV prevention. "The pharmacy board has taken an important step forward for evidence-based policy."
It didn't come swiftly or easily. Activist organizations including the Pennsylvania Aids Law Project, Prevention Point Pittsburgh, Prevention Point Philadelphia, as well as legislators, HIV workers, and others had lobbied for the change for a decade. An article in the Lancaster Intelligencer Journal [15] cited several efforts:
In 2002, a group called the Pennsylvania Coalition for Responsible Syringe Policy asked the Pharmacy Board to consider deregulation.
In 2005, another group called Pennsylvanians for the Deregulation of Syringe Sales filed a formal petition to the Board, and met with legislators and officials in the Rendell Administration.
In 2007, the the Pennsylvania Pharmacists Association endorsed syringe deregulation and asked the Pharmacy Board to move swiftly on it.
Robert Field, organizer of Pennsylvanians for the Deregulation of Syringe Sales and co-chair of the Lancaster-based Common Sense for Drug Policy [16], told the Intelligencer Journal he looked at syringe deregulation after efforts to start a syringe exchange program in Reading met with opposition. The board responded in August 2007, proposing new regulations allowing for over-the-counter syringe sales and opening them up for public comment. Thanks to concerns expressed by harm reduction and public health groups during the comment period, the board removed age and quantity restrictions.
The board heard a number of concerns from the Pennsylvania Medical Society that the rule change would increase drug use. But research won the day [17]. "Studies indicate that making syringes available will reduce the spread of HIV and will not lead to an increase of illicit drug use," said Field.
The board also rejected record-keeping requirements requested by the House Professional Licensure Committee, saying it "does not believe that maintaining a record and requiring individuals to provide a name or other identifying information would advance the public health and safety."
Now the number of states that do not allow syringe sales without a prescription is down to two: Delaware and New Jersey.