Australia's Federal Parliamentary Secretary for Health, Christopher Pyne, said over the weekend that the government of Prime Minister John Howard wants to ban bongs. The water pipes widely used for smoking marijuana are sold all across Australia, and not just in "head shops," but also at tobacconists and even gas stations.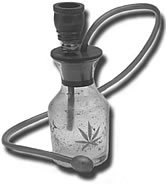 The comment came as the country staggers through a fit of Reefer Madness related to fears that marijuana causes mental health problems. Those fears were heightened last week by the release of a
Mental Health Council of Australia report
[13]
linking pot smoking to increased risk of mental illness and the worsening of existing mental problems. While the report itself was careful to note that such problems occurred in only a tiny number of users, Australian press coverage has not been so careful.
In remarks reported by the Sydney Herald-Sun [14], Pyne said that allowing bongs to remain legal signaled that the government approved of their use and that the display of such items in shops reduced public concern about the impact of drug use. "I'm certainly concerned about the proliferation of apparatus for the use of illicit substances," Mr. Pyne said.
In addition to playing to rising hysteria over the marijuana-mental illness connection, Pyne is following the lead of the National Cannabis Strategy Group [15], which last May called for "closer and more appropriate regulation of drug paraphernalia."
A national bong ban may prove impractical, however. The state government in Victoria banned "cocaine kits" earlier this year, but found that too many ethnic groups used bongs to smoke tobacco and other legal substances to allow it to impose a blanket ban.
It would also be unpopular, at least among shoppers consulted by the Sun-Herald at one Sydney store that sells bongs and pipes. "No, I don't like smoking through plastic bottles," one shopper said.
"It's not going to stop anyone from smoking anyway," another said. "They will find a more unhealthy way to smoke it."