Three Colombian soldiers and two civilian members of a coca eradication squad were killed Monday when the boat in which they were riding came under rifle and grenade attack. Six more were wounded and six others were still missing Wednesday evening. The attack occurred in western Choco state, where leftist FARC guerrillas and rightist paramilitaries are both active.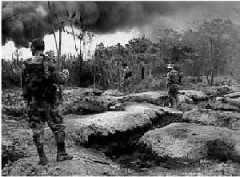 Early reports from the scene
[14]
quoted witnesses blaming members of the FARC's 34th Front, with a local ombudsman telling Radio Caracol the group had been attacked on its way to eradicate coca fields. But another local official told the
Associated Press
[15]
that drug gangs and rightist paramilitaries also operate in the area.
In the past three months, eradication teams have destroyed nearly half of the estimated 1,500 hectares of coca plants in the area. But as Monday's incident demonstrates, those efforts are not always appreciated. At least 26 of the 6,000 eradication workers employed by the Colombian government have been killed in the last three years.
Manual eradication of coca is far outweighed by aerial eradication using herbicide. But despite spraying or uprooting hundreds of thousands of acres of coca plants each year, Colombia remains the world's largest coca and cocaine producer. According to the UN Office on Drugs and Crime 2009 World Drug Report [16], last year Colombia produced 81,000 hectares of coca, down from 2007's 99,000 hectares. Colombian coca production was at 80,000 hectares in 1997, then ballooned to 163,000 hectares in 2000, before declining and reaching an apparent plateau at around 80,000 hectares since mid-decade.