In Fresno, California, Wednesday to witness a massive marijuana eradication bust, Office of National Drug Control Policy (ONDCP -- the drug czar's office) head Gil Kerlikowske once again revealed a startling gap in his vocabulary. Kerlikowske claimed not to know a word that should be de rigeur in any drug policy debate, and he claimed the president was unaware of it, too.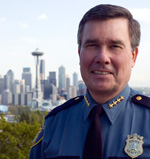 "Legalization is not in the president's vocabulary, and it's not in mine," he admitted to the
Fresno Bee
[13]
.
It's not the first time [14] Kerlikowske has relied on that trope. In fact, it appears to be one of his favorite stock phrases.
Not content with displaying his lack of vocabulary, Kerlikowske went on to display an equally stunning lack of knowledge about the emerging consensus on the myriad medicinal uses of marijuana. "Marijuana is dangerous and has no medicinal benefit," he said, ignoring an ever-growing pile of research finding just the opposite.