The number of African Americans behind bars for drug offenses dropped dramatically from 1999 to 2005, while the number of white drug war prisoners has increased, according to a report released Tuesday. That is a "potentially significant change" in the outcomes of drug policies, said the report's author.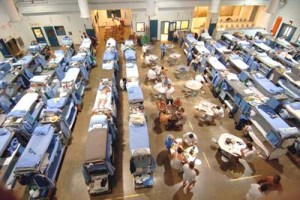 The report,
The Changing Racial Dynamics of the War on Drugs
[15]
, was written by Sentencing Project executive director Marc Mauer. It relied on official numbers from the Justice Department's Bureau of Justice Statistics.
According to the report, in 1999, 145,000 blacks were doing time in state prisons for drug offenses; by 2005, that number had declined by 22% to 113,500. At the same time, the number of white drug war prisoners jumped 43%, from 50,000 in 1999 to more than 72,000 in 2005. The number of Hispanics doing time for drugs in state prisons remained constant at about 51,000.
The decline in the number and percentage of black drug war prisoners is the first since the crackdown on crack during the lock-'em-up Reagan years of the mid-1980s. But while the decline is significant, blacks remain imprisoned on drug charges at a disproportionate rate. They made up 45% of state drug prisoners in 2005, down from 58% in 1999, but still far in excess of their percentage of the overall and drug-using populations, about 12%.
The report examined the reasons behind the decrease in black drug prisoners and the increase in white drug prisoners and arrived at some tentative conclusions. It found that blacks made up a declining percentage of all non-marijuana drug arrests and accounted for a declining number of drug convictions during the period in question.
The reasons for the declines in black drug arrests, convictions, and imprisonment lie in the rise and fall of crack cocaine and the increasing resort to drug courts and other diversionary programs, the report suggested. With crack use falling off after its harms became apparent, and with crack sellers shifting from open air markets to indoor sales, the number of African-Americans arrested for crack offenses is declining. Similarly, the report suggests that the increase in whites imprisoned on drug charges may be partially attributable to the rise of methamphetamine in the past decade.