Three weeks after Attorney General Eric Holder first signaled an end to DEA raids against medical marijuana providers [13], he has reiterated those remarks. Again in response to a question posed at his weekly Wednesday press conference, Holder said federal agents would only target medical marijuana distributors who violate both state and federal law.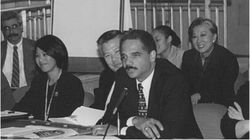 Thirteen states have legalized the medicinal use of marijuana even though federal law considers all marijuana possession, production, and distribution illegal. The conflict has been most intense in states with the broadest medical marijuana laws, California in particular. The DEA has raided dozens of dispensaries operating in the state in recent years, and US Attorneys have occasionally prosecuted their operators, exposing them to harsh federal mandatory minimum drug sentencing laws.
"The policy is to go after those people who violate both federal and state law," Holder said Wednesday at the Justice Department. But he was quick to add that the feds will go after anyone who tries to "use medical marijuana as a shield" for dope dealing.
"Given the limited resources that we have, our focus will be on people, organizations that are growing, cultivating substantial amounts of marijuana and doing so in a way that's inconsistent with federal and state law."
During his election campaign, President Obama promised repeatedly to end the raids on California dispensaries, but raids continued after his election and even shortly after he took office, prompting Holder's original statement three weeks ago. No raids have occurred since then.
Americans for Safe Access [14] spokesman Kris Hermes told the Associated Press [15] he welcomed Holder's remarks. "It signals a new direction and a more reasonable and sensible direction on medical marijuana policy," he said.
But, he added, there is still unfinished business left over from the Bush administration's crusade against the dispensaries. More than 20 California medical marijuana providers are currently being prosecuted in federal court, including San Luis Obispo County dispensary operator Charles Lynch (see story here [16]), who could face decades in prison when sentenced on Monday.
"There remains a big question as to what the federal government's position is on those cases," Hermes said.
Another question is just how aggressive the DEA and the US Attorneys will be in determining that a given operation is violating state law. Perhaps in recognition of medical marijuana's broad support in California, the feds have tended to portray dispensary busts as targeting "drug dealers," not legitimate medical marijuana providers.
And yet another question will be the degree to which hostile local law enforcement entities attempt to sic the feds on dispensary operators, as was the case with Lynch.