The Obama administration may have put an end to the DEA raids on medical marijuana providers in states where it is legal (see story here [14]), but the legacy of the Bush administration's crusade against medical marijuana continues. Morro Bay, California, dispensary operator Charles Lynch is a case in point. After having been convicted of federal marijuana law violations, he goes to court for sentencing Monday, where he faces a mandatory minimum five-year prison sentence and the possibility of up to 100 years behind bars.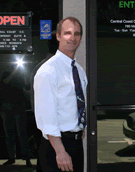 Lynch did everything by the book. Before opening his business in April 2006, he first contacted the DEA, which eventually told him it was "up to cities and counties" to decide about dispensaries. He also sought and received all necessary business permits from the city of Morro Bay.
But that didn't stop a local law enforcement official bent on shutting down his Central Coast Compassionate Caregivers from going after him. San Luis Obispo County Sheriff Pat Hedges unleashed an 11-month investigation into Lynch and the dispensary. He and his deputies surveilled the premises, took down license plate numbers and stopped the vehicles of dispensary workers and clients, and even resorted to using criminal undercover informants in a failed bid to get Lynch to violate state law.
Sheriff Pat Hedges couldn't find enough evidence against Lynch to even get a search warrant from state courts, so he turned to the DEA. On March 29, 2007, the feds hit full-force, raiding the dispensary and Lynch's home in full paramilitary attire. Lynch was not arrested at the time, and reopened the dispensary on April 7, 2007. The DEA then threatened the dispensary's landlord with seizure of his property if he didn't evict the Central Coast Compassionate Caregivers. On May 16, 2007, the dispensary shut down for good.
The DEA wasn't done with Lynch. Two months later, in yet another paramilitary-style raid, they arrested Lynch at his home and charged him with five counts of violating the federal marijuana laws.
After a trial in which -- as is always the case in federal court -- neither California's medical marijuana law nor the fact that Lynch was operating under it could be admitted as evidence, a jury convicted him of all counts in August 2008.
Lynch has received strong support from his local community, as well as sympathizers [15] across the state and country. Demonstrations have been (and will be [16]) held to demand justice in his case. Whether community support for Lynch or the Obama administration's commitment to not prosecute cases that do not involve violations of state medical marijuana laws will have any impact will only be found out Monday.
With the Obama administration's pronouncements so far on medical marijuana, it may be that the era of federal raids on medical marijuana providers is over. But as long as people like Charles Lynch are facing years in federal prison and others are serving sentences there, there is still some unfinished business if justice is to be served.