With a measure to legalize the possession of up to one ounce of pot on the ballot in Colorado and a measure to allow the regulated sale of marijuana and the possession of up to an ounce in Nevada, Tuesday could be the first time voters in any American state have embraced an end to marijuana prohibition. At this late juncture, most polls are painting it as an uphill fight, though organizers have reasons why they believe the polls may be off. The odds are looking better in Nevada than Colorado.
The only state in which marijuana possession is legal is Alaska. There, it was the courts, not the voters, who made the decision.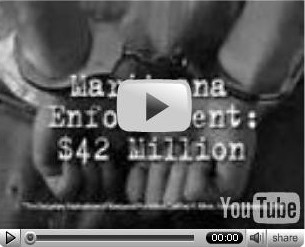 Despite creative and energetic campaigns by the
Committee to Regulate and Control Marijuana
[15]
(CRCM) in Nevada and
SAFER Colorado
[16]
in the Rocky Mountain State,
most recent polls
[17]
show both measures losing, although the margin is much narrower in Nevada, and one Nevada poll showed the measure ahead.
In both states, however, organizers say the polls are undercounting support for legalization. In Nevada, spokesmen for the measure there told the Chronicle that the only poll that used the actual ballot language [18] had the measure ahead by a margin of 49% to 43%. That contrasts with Nevada newspaper polls that showed the measure losing with between 37% and 41% of the vote.
"While I would say that it is unlikely the polling is that far off, we certainly expect greater support than what the polls are reporting," said SAFER Colorado's Steve Fox. "Many young people don't respond to polls or are not even reached by them because all they have are cell phones. While we can't claim that we're going to cruise to an easy victory," he told Drug War Chronicle, "other polls we have seen seem to indicate greater support than those media polls."
"The polls jibe," said CRCM campaign manager Neal Levine. "The Reno Gazette-Journal poll asked if people favored the legalization, use, possession, and transfer of marijuana, while our poll used the actual ballot language. The explanation of the difference lies in the wording of the question asked. The Review-Journal poll, while it shows us behind, shows a huge upward trend over their last poll. Their language wasn't as slanted, but it still didn't ask the question voters will be asked on the ballot. What is consistent is that the campaign is trending up," he told the Chronicle last month.
And it was still trending up, but also still trailing this week. "In a new Reno Gazette-Journal poll, we cut the gap by seven points," said campaign communications director Patrick Killen Thursday. "According to them, we're still behind 41% to 52%, but again, their question didn't address taxation and regulation or the many safeguards our measure has. Still, the good news is this shows the campaign is moving forward."
Both states have seen hard-hitting organized opposition campaigns led by establishment political figures, law enforcement, and the federal anti-drug bureaucracies. In Colorado, Denver DEA special agent in charge Jeffrey Sweetin has taken a lead position in opposing the measure, along with Gov. Bill Owens and Attorney General John Suthers. Owens and Suthers were among those who were surprised last Friday when nearly a hundred pro-legalization demonstrators showed up at their anti-legalization press conference.
In Nevada, CRCM has been busy challenging interference in the campaign by federal officials and Nevada elected officials. In mid-October, the group filed a lawsuit against Clark County and Las Vegas officials [19] seeking an injunction to stop them from campaigning against the measure on the tax payers' dime. The following week, CRCM supporters confronted deputy federal drug czar Scott Burns, who flew in from Washington, DC, to oppose Question 7 at a small-town forum. "Czar, go home! Leave Nevada alone!" they chanted.
While CRCM is engaged in TV, radio, and web-based advertising, the lead opposition group, the ironically named Committee to Keep Nevada Respectable [20] has limited itself to a late radio ad, which CRCM attacked Thursday as full of lies. "They say it would bar employers from doing drug testing, when the measure explicitly says they can," complained Killen. "It says we favor street use of drugs, which is simply wrong on two counts. First, this isn't about 'drugs;' this is about marijuana. Second, again, the language of Question 7 explicitly bars the public consumption of marijuana."
The ad wars may not matter that much in the end, said University of Nevada Las Vegas political science professor Ted G. Jelen. "The commercials are not very effective," he told the Chronicle. "People aren't paying that close attention. Also, I think this measure is a little bit complicated. Most people don't take these issues very seriously, so the message has to be simple. They keep talking about taxation and regulation, but it might be better if they just said we're going to treat it like booze."
Jelen pronounced Question 7's chances of passage as "unlikely," although he predicted it would get a respectable showing. Still, he said, given the national political landscape and scandal-driven, unexpectedly competitive gubernatorial and US House of Representatives races in Nevada, turn-out could be high -- and that could affect the outcome.
CRCM is counting on that. "We've got all kinds of volunteers, and now it's time to get people to the polls," said Killen. "We're counting on non-traditional voters -- young voters, new voters, disenchanted voters -- who aren't showing up on the radar. We're doing early voting through Friday, and then it's the final push toward Tuesday."
With both measures trailing in most polls, organizers are starting to take a longer view. "Certainly, the polls being released by the media indicate that we are far behind," said SAFER Colorado's Mason Tvert. "Whether that will be the case after actual voting takes place remains to be seen. But it is important to remember that this is just one step in a long battle to educate the public about the fact that marijuana is less harmful than alcohol. Through the course of this campaign, our basic message has resonated across the state and in national publications like USA Today and the Washington Times. Despite the fact that we have spent less than $60,000 after the signature drive, we have generated hundreds of thousands of dollars worth of earned media coverage. We have taken recreational marijuana policy reform from basically nowhere and have made it a major topic of discussion and debate in the state. This campaign is not the end of our efforts in Colorado. If we lose, we will continue to educate the citizens of the state until the time is right for another initiative."
There is now less than a week until the voters hit the voting booths. It is now looking uncertain, but not impossible, for 2006 to be the year voters said no to marijuana prohibition.