On his first day in office, President Obama named Edward Jurith, a long-time federal anti-drug bureaucrat, acting head of the Office of National Drug Control Policy [12] (ONDCP -- the drug czar's office). It's not Jurith's first time in the caretaker position; he was appointed acting director by President Clinton in January 2001 and served there until President Bush replaced him with John Walters in December 2001.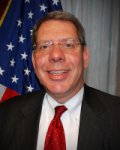 According to his
official biography
[13]
, Jurith has served as ONDCP general counsel since 1994. That position's duties included acting as legal advisor to the director and ONDCP staff and ensuring the agency complied with all federal laws and regulations. Jurith also advised ONDCP on the operations of the much criticized National Youth Anti-Drug Media Campaign, the High Intensity Drug Trafficking Area (HIDTA) program, the Drug-Free Communities program (already more prominently displayed on the ONDCP web site), and the Counterdrug Technology Assessment Center (CTAC).
Jurith served as counsel to the US House Select Committee on Narcotics Abuse and Control from 1981 to 1986 and as the committee's staff director from 1987 until he moved to ONDCP as the agency's legislative liaison in 1993. Jurith was "instrumental" in drafting the Anti-Drug Abuse Acts of 1986 and 1988, which provide the current statutory framework for US anti-drug policy.
Jurith's appointment as acting drug czar ends the short-lived tenure of Patrick Ward [14], who was promoted from acting deputy drug czar to acting drug czar by President Bush earlier this month. While Jurith is no friend of drug reform, he is an attorney, not an interdiction advocate like Ward, an Air Force veteran who worked on "countering the nexus between illegal drugs and terrorism" in places like Mexico, the Andean region, and Afghanistan.
Obama's selection of a veteran drug war bureaucrat and key actor in crafting the laws that got us into drug war without end to be acting head of ONDCP suggests that when it comes to drug policy, for now, at least, it's stay the course, not change we can believe in. But Jurith is only acting director; whether Obama will take a bold step in appointing a permanent new drug czar, or when, remains to be seen.