The DEA has rejected yet another petition [16] seeking to remove marijuana from Schedule I of the Controlled Substances Act (CSA), this one from Iowa-based marijuana reformer Carl Olsen. It is only the latest petition rejection by the agency in a glacially-paced struggle to reschedule marijuana that has been going on since 1972.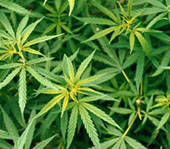 But Olsen and other advocates of the rescheduling tactic say that is to be expected, and the rejection is only the opening phase of this particular battle, not the end of the line. And while Olsen heads to federal court to challenge the DEA ruling, another petition to reschedule marijuana is still in process, as it has been for the past six years.
Richard Nixon was just beginning his second term in office when the National Organization for the Reform of Marijuana Laws [17] (NORML) filed the first rescheduling petition. It took 22 years and numerous court challenges before the DEA finally rejected that petition. In the meantime, the DEA rescheduled marijuana's primary psychoactive ingredient, THC, as a Schedule II drug in 1985 and loosened controls over THC even further by rescheduling it to Schedule III in 1999. That allows doctors to prescribe Marinol, but not marijuana.
Another rescheduling petition, filed by Olsen in 1992, was rejected years later, as was a 1995 petition submitted by former NORML head, researcher, and professor of public policy Jon Gettman. In 2002, Gettman, in association with a long list of supporters, submitted yet another Cannabis Rescheduling Petition [18], which remains pending.
Under the CSA, he argues, substances must meet several criteria to be placed in Schedule I, the most restrictive schedule. The substance must have a high potential for abuse, it must have "no currently accepted medical use" in the US, and there must be a lack of accepted safety for use of the substance. Both the Olsen petition that was rejected last month (although the decision was not published until this week) and the pending Gettman petition argue that marijuana no longer qualifies to be placed in Schedule I because it does have "currently accepted medical use" in the US, citing in particular the ever-growing number of states that have legalized its medicinal use.
But the two petitions differ in the way they seek to remedy the situation, and it is this difference that accounts for the vastly different pace at which they have been handled by the DEA. While the Gettman petition is still awaiting a ruling six years after it was filed, Olsen's petition was only filed this year. The Gettman petition seeks to reschedule marijuana through the administrative process, the Olsen petition argues that the issue is a matter of statutory law. Under the CSA, if marijuana is found to have "currently accepted medical use," it cannot be Schedule I.
"I filed in May, filed a federal lawsuit in September, and got a ruling December," said Olsen. "The DEA has never moved that fast on a petition in its history, and by denying the petition, it is avoiding the possibility of having to deal with it again because now it will instead go back to the court of appeals."
Olsen's petition was not a request, but a demand that DEA recognize the reality that marijuana cannot be a Schedule I drug, he said. "I didn't ask for anything; I demanded that they comply with the law. It's not a Schedule I drug, and they are breaking the law by keeping it there," he said. "The statute says it can't be a Schedule I drug if it has accepted medical use, and 13 states say it has accepted medical use. Doesn't that mean anything?"
Not according to the DEA it doesn't. "Your petition and notice rest on your contention that federal drug law gives states the authority to determine, for purposes of the CSA, whether a drug has a 'currently accepted medical use in treatment in the United States,' and that marijuana has such a currently accepted medical use because 12 states have passed laws relating to the use of marijuana for medical purposes," wrote DEA Deputy Administrator Michele Leonhart in denying the petition [19].
Leonhart cited the Raich medical marijuana case in arguing that marijuana has no "accepted medical use" because the federal government doesn't recognize it, and even quoted from the decision: "The Supremacy Clause unambiguously provides that if there is any conflict between federal and state law, federal law shall prevail," and "Congress expressly found that [marijuana] has no acceptable medical uses."
Leonhart also quickly disposed of additional arguments presented by Olsen, summarizing her position by finding that "the existence of state legislation is not relevant to a scheduling determination." Thus, "there is no statutory basis for DEA to grant your petition to initiate proceedings to reschedule marijuana. Nor is there any basis to initiate any action based on your August 5th notice. The Petitioner's request is denied."
Now, it will be up to the federal courts to decide who is right. "The court has to rule on my complaint to enjoin the DEA from enforcing Schedule I," said Olsen. "If they rule in my favor, the DEA cannot claim it is a Schedule I drug; it will have to remove it from Schedule I."
In either case, the losing side will appeal. Look for a resolution of the Olsen case some time in the not-so-near future.
That's just how Olsen planned it, said Gettman. "I wasn't surprised at the DEA decision, and I don't think Carl was either," he said. "The whole point of his petition was to get this into federal court, and to do that, he had to be rejected administratively. This is really the beginning of Carl's legal challenge rather than the end."
Gettman credited Olsen with breaking new ground with the petition and even for inspiring Gettman himself to get involved with rescheduling. "Carl's arguments greatly clarify and build on state-level recognition of medical use, and set the stage for greater attention to this matter," he said. "And I have to say that Carl's activity and pioneering efforts are one of the things that inspired me to file the 1995 petition in the first place."
Meanwhile, Gettman's petition is still pending, although it has already moved through several stages of a lengthy bureaucratic process involving the DEA, the Department of Health and Human Services and the Food & Drug Administration (FDA). "The last time we got a status report from FDA, they were nearing the end of their review," Gettman reported.
He is no hurry right now, he said. "We have deliberately decided not to pressure the government to complete the review. We would prefer to deal with the next administration instead of the current one," he explained. "Regardless of how the election turned out, we would have new personnel overseeing the process, and we think a fresh perspective would be beneficial."
Even if the FDA were to come down with a favorable review, there are many steps between that and actually rescheduling marijuana, and even then, the fight over marijuana will still be underway, said Gettman. "Rescheduling will not make medical marijuana available right away and it is not the end of deciding marijuana's regulatory status, it's the beginning," he said. "But it would change the regulatory environment and make it easier for states to accelerate the pace of reform, as well as make it easier for human studies to get under way and for companies to develop marijuana as a medical substance. Schedule I status discourages companies from doing that."
NORML founder Keith Stroup, who was in on the original 1972 rescheduling effort applauds Gettman's and Olsen's efforts, but said he has lost faith in ever gaining redress through that process. "I just don't believe anymore that the rulemaking process is ever going to work in our favor," he said. "We've been trying since 1973, and I think we're going to have to win this the old-fashioned way, through the legislative process or voter initiatives. I just don't think the people in those agencies have the principled courage to do the right thing," Stroup added.
"Still, I'm pleased that Carl and Jon continue to pursue these avenues," he said. "It's to our advantage to put pressure on the system wherever we can."
Whether it's a long-shot or not, the effort to change the marijuana laws through seeking rescheduling is not going away. And who knows? It might actually pay off big one of these years.