In a Sunday interview [14], Venezuelan President Hugo Chávez said relations between his government and the US could improve dramatically under an Obama administration, including renewed cooperation with the DEA. Chávez, whose relations with the Bush administration have been tense and confrontational, threw the US anti-drug agency out of the country in 2005, charging it with spying and interfering with Venezuela's internal affairs.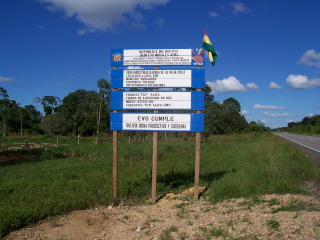 "There are winds in favor of relations between the Venezuelan government and the new president of the United States, Barack Obama. We must try energetically and with good faith to improve relations, and I am ready to do it," Chávez said on a Sunday political talk show, José Vicente Today, broadcast on a private television station. "But we can't be naïve," Chávez continued. "Worse than relations under Bush, impossible, but we must be cautious because Obama is the president of the empire, and all of its machinery is still intact."
The Bush White House has accused Venezuela of turning a blind eye to the trafficking of cocaine from neighboring Colombia -- a US ally and the world's largest producer -- but that is one of several areas where friendlier, more respectful relations could lead to renewed cooperation, Chávez said. "We are ready to work government to government on the energy issue, to combat drug trafficking," Chávez said. "We could even create a new agreement with the Drug Enforcement Agency."
But cooperation is a two-way street. Chávez is deeply interested in seeing fugitive terrorist Luis Posada Carriles extradited to Venezuela to face trial in the 1976 bombing of a Cuban airliner that killed 73 people. Posada escaped from a Venezuelan prison and showed up in the US years later, but US officials have refused to extradite him.
On Saturday, Chávez called on Obama to extradite Posada Carriles. "President Obama, send us the terrorist that we're requesting. He should be in prison and not free on the streets of the United States," Chávez declared.