The mother of a quadriplegic inmate who died after suffering breathing problems in the District of Columbia Jail has reached a settlement with the DC government and care providers. While Jonathan Magbie's mother declined to reveal a dollar figure, the ACLU National Prison Project, which helped litigate the case, called the sum "substantial."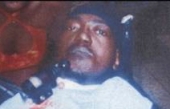 Magbie, 27, a resident of nearby Maryland, was paralyzed from the neck down and used a mouth-operated wheelchair to get around. He was arrested in April 2003 when DC police found a gun and a small amount of marijuana in his pocket after they pulled over a vehicle driven by his cousin. In September 2004, DC Superior Court Judge Judith Retchin sentenced him to 10 days in jail after he pleaded guilty to marijuana possession. Although it was Magbie's first offense, Retchin later told a judicial review committee she sentenced him to jail because he said he would continue to smoke marijuana to relieve his pain.
Magbie died before making it halfway through his sentence. He needed a ventilator to breathe at night, but the DC jail infirmary didn't have one. Investigations after his death determined that he was taken to a hospital for "respiratory distress," but later returned to the infirmary. Jail doctors did not perform a follow-up exam, nor did they regularly conduct rounds to check on patients, including Magbie.
"DC's jail system had a duty to care for Jonathan Magbie's serious medical needs," said Elizabeth Alexander, director of the ACLU National Prison Project. "The jail and the Greater Southeast Community Hospital failed to live up to that obligation and it resulted in an agonizing and unnecessary death."
As part of the settlement, correctional officials have agreed to modify a number of policies in order to protect prisoners with severe medical problems and physical disabilities, including modifying the medical screening forms for incoming prisoners and spelling out medical conditions too severe to be treated at the jail's infirmary. Also, prisoners with medical needs that can't be met by correctional staff must be transferred to a facility that can provide an appropriate level of medical care.
"The family's concern was to make certain that, to the extent anyone can prevent it, that this terrible type of event never happens again," said Alexander. "A series of people dealt with this young man, and every single place where something could go wrong, it did go wrong."