A lawsuit filed by a young Bradenton, Florida, man to win the return of $10,000 in cash seized from him by the Bradenton Police Department has shined a light on a longstanding -- and possibly illegal -- asset forfeiture policy by the department. Under the Florida Contraband Act, persons whose money and property were seized by police have the right to have a judge rule on the legality of the seizure. But the Bradenton police have for years been using their own "Contraband Forfeiture Agreement [13]," which people arrested are told to sign to agree to give up their property and waive any legal recourse.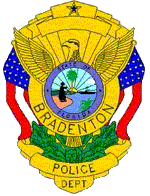 The practice came to light last week, when the
Sarasota Herald Tribune
[14]
began reporting on the case of Delane Johnson, 20, who was stopped outside an apartment house in July. When police spotted a wad of cash in his pants pocket, he told them he was using the money for a party. They arrested him on the rarely-used charge of failing to report a business transaction in excess of $10,000 (he had $10,020). Police claim Johnson signed the "Contraband Forfeiture Agreement" -- a claim he disputes -- and they deposited the money in a police bank account.
County prosecutors dropped the charges, saying it was not a crime to carry cash, but police refused to return the money. Now Johnson is in court fighting to get his money back.
"The whole arrest was bogus. It's awful," attorney Varinia Van Ness, who represented Johnson, told the Herald Tribune. She wants the courts to order the department to follow state law instead of continuing its end run around the law.
"Hopefully, we'll put a stop to it when we get in front of a judge," said attorney Louis Daniel Lazaro, who also represents Johnson. "There are possible corruption charges on a criminal level."
This wouldn't be the first time people have gone to court to get their money back. Last year, a Manatee county judge ordered Bradenton police to return $7,000 seized from a woman who was arrested for a driver's license violation after a traffic stop. Judge Douglas Henderson ruled that the woman did not knowingly and willingly agree to have her money confiscated even though her named appeared on the forfeiture agreement.
The Bradenton Police Department's unusual practice was viewed with concern by attorneys and constitutional scholars contacted by the Herald Tribune. They said police may be pressuring people to sign away their rights, a charge some local residents said was true.
"Who knows what they are telling people to get them to sign it," said Sarasota-based defense attorney Henry E. Lee, who represented a woman last year in a police forfeiture case in Bradenton. "This is a source of revenue for the police, and it's just rife for abuse."
"It sounds like robbery to me," said Joseph Little, a law school professor at the University of Florida.
Bradenton police have seized more than $12,000 from 15 people arrested since August. Janie Brooks, 56, was one of them. She was in her front yard in a poor neighborhood when police swooped in, said they found drugs, and seized her car and $1,200 cash. As she sat in the back of a patrol car, police pressured her into signing the forfeiture form, she said. "He kept rushing me, like, 'Go ahead, things will be better if you did,'" Brooks said. "It was like, there's gonna be some big time stuff that happens to me if I don't sign it."
Bradenton Police Chief Michael Radzilowski was unrepentant. "If you're selling drugs, I'm going to take your money, your car, your house -- if I can get it," he said. "That's my goal here. Eventually we're going to seize someone's house." He also accused Delane Johnson of being a drug dealer, though he was never charged with a drug-related offense. "Does he really think a judge will give him back his drug money? God bless him if a judge goes along with that."
It's little wonder Radzilowski defends the practice. The county's asset forfeiture fund, which the department uses to buy new equipment and pay for drug education and other programs, has gone as high as $150,000.