The medical marijuana advocacy group Americans for Safe Access [15] (ASA) filed a lawsuit [16] Wednesday against the California Department of Motor Vehicles after it revoked the license of a medical marijuana patient solely for being a medical marijuana patient.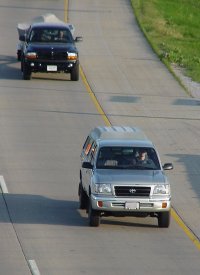 The plaintiff is Rose Johnson, 53, of Atwater. Johnson, a registered medical marijuana patient, had a clean driving record and no accidents in 37 years behind the wheel. But the DMV refused to renew her license on July 26 after obtaining her medical records and finding out she used marijuana medicinally.
According to the DMV, Johnson's license was revoked "because of... [an] addiction to, or habitual use of, [a] drug," thereby rendering her unable to safely operate a motor vehicle, even though no evidence existed to substantiate this claim.
"The DMV cannot simply disregard California's medical marijuana law," said ASA Chief Counsel Joe Elford, who is representing Ms. Johnson in her claim against the DMV. "When the voters of California enacted the Compassionate Use Act, they never intended to authorize the DMV to strip medical marijuana patients of their drivers' licenses," continued Elford. "The DMV should not be in the business of revoking the licenses of drivers like Ms. Johnson simply because she is a medical marijuana patient."
ASA said Johnson is not alone in losing her license. Suspension or revocation of drivers' licenses for qualified medical marijuana patients has occurred in at least eight California counties, including Alameda, Butte, Contra Costa, Glenn, Merced, Placer, Sacramento, and Sonoma.
The DMV justifies its license revocations of medical marijuana patients by calling them "drug abusers" despite no evidence to back that claim. The DMV has not taken similar blanket action against people prescribed opiates, barbiturates, sedatives, tranquilizers, or stimulants.
State and local police in California have been instructed by Attorney General Jerry Brown to respect the state's medical marijuana laws and not arrest medical marijuana patients or take their medicine. "The DMV is not under a different set of requirements than local police in California," said Elford. "The failure to uphold California's medical marijuana law is entirely inappropriate for any local or state agency."
The lawsuit was filed in Merced Superior Court. It is expected to be heard sometime in the next few months.