Like other interest groups, the drug reform movement has the Obama transition under a microscope, searching for clues on the new administration's intentions as it scrutinizes those appointments for positions that are going to be key to advancing the cause. Some of the Obama transition team's early moves have some drug reformers sounding alarm bells, but other reformers -- not so much.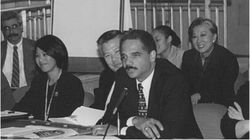 Drug reformers were not particularly enthralled with Obama's vice-president selection, Sen. Joe Biden (D-DE), who made a career authoring drug war legislation. Biden can rightfully claim to be the father of the drug czar's office, he was a big fan of harsh sentencing laws, he crafted the horrid RAVE Act. Never encountering a "drug problem" that couldn't be fixed with another federal criminal law, Biden most recently authored a bill that would criminalize being on board a home-made submarine carrying drugs.
While Biden may have begun to see the light in recent years -- he is author of one of the best bills seeking to address the crack/powder cocaine sentencing disparity (which he helped create) -- drug reformers remain deeply suspicious of a man who built a political power base on the shoulders of the assembled ranks of law enforcement.
Nor did the appointment of Rep. Rahm Emanuel (D-IL) as White House chief of staff alleviate concerns. While the sharp-elbowed political operative has not been a leading drug warrior, neither has he shied from using drug war discourse as a weapon against his political foes.
One oft-cited example of Emanuel's penchant for drug war rhetoric came a decade ago [19], when he defended the Clinton administration's unconstitutional effort to punish physicians who recommended medical marijuana to patients. "We are going to continue to find ways within the administration to fight legalization and the notion of legalization," he said in an interview. "We're against the message that [California's medical marijuana initiative] sends to children," Emanuel demagogued. (Emanuel, now a member of Congress, did vote for the pro-medical marijuana Hinchey amendment [20] in July of last year.)
This week's announcement that former Deputy Attorney General Eric Holder would be nominated for the Attorney General post did little to allay mounting fears that Obama was filling key positions for drug policy with Clinton-era drug war holdovers. Some were quick to point to Holder's time as US Attorney for the District of Columbia, when he pushed through changes in DC's marijuana laws that made sales a felony instead of a misdemeanor.
As the Washington Post [21] reported:
In addition, US Attorney Eric H. Holder Jr. said in an interview that he is considering not only prosecuting more marijuana cases but also asking the DC Council to enact stiffer penalties for the sale and use of marijuana. "We have too long taken the view that what we would term to be minor crimes are not important," Holder said, referring to current attitudes toward marijuana use and other offenses such as panhandling.

Holder said he hopes to discourage some of that activity by being tougher on marijuana crimes. New guidelines should be in place by the end of the month, he said, noting that the District could learn from New York's "zero-tolerance" policy. There, crime plummeted when police aggressively enforced quality-of-life crimes, including panhandling and public drinking, which gave officers an opportunity to check for drugs, guns and outstanding warrants.
That same year, he told the Washington Times [22] he was considering proposing a mandatory-minimum 18-month sentence for any marijuana sales. That, at least, didn't happen.
Drug reformers took some small solace, however, from Holder's comments on mandatory minimum sentencing in a 1999 interview. Responding to a question about whether it was time to review mandatory minimums, Holder said:
I do not think that we should ever foreclose the possibility that we take a look at how the laws that we have passed are working. I tend to think that mandatory minimum sentences that deal with people who commit violent crimes are almost always good things. I think the concerns are generally raised about mandatory minimum sentences for nonviolent drug offenders. And I think there are some questions that we ought to ask.

I do not go into it with a presumption that they're necessarily bad, but we ought to look at the statistics and see, are we putting in prison, are we using our limited prison space for the kind of people that we want to have there? Are the sentences commensurate with the kind of conduct that puts people in jail for these mandatory minimum sentences?

Those are the kinds of questions I think that we ought to ask. And as thinking legislators on both sides, Republicans and Democrats, liberal and conservative, I would hope that we would ask those questions and then go into it with an open mind.
With drug war cheerleaders like Biden and Emanuel and professional drug warriors like Holder being invited to join the Obama team, drug reformers are understandably skittish. But most are taking a wait and see attitude, even as they bemoan some of Obama's choices.
"Some of the appointments, such as Holder, are certainly concerning," said Bruce Mirken, communications director for the Marijuana Policy Project [23]. "There is some problematic stuff in the past, yes, but people do change and learn. Who would have thought that a drug warrior like Bob Barr would end up as a Libertarian?" Mirken asked. "I don't think that because somebody said or did something we disagreed with a decade ago, he is necessarily bound to those same positions now, but we will be watching closely. If the time comes to freak out, we will, but it's premature to freak out now."
The reform community should not be freaking out, agreed Eric Sterling, who served as counsel to the House Judiciary Committee in the 1980s and now heads the Criminal Justice Policy Foundation [24]. Instead, it should be trying to flex its muscles.
"I think the reform community is way overreacting and, more importantly, not taking the initiative," he said "Reform leaders ought to be asking themselves what letters they've written to President-elect Obama, what letters to the editor they've penned, what op-eds they've submitted. Is the movement doing anything other than passively reacting?" he asked.
"Our movement has been under such assault for the past eight years that we're really out of practice in being effective political actors," Sterling argued. "I just contacted [the left-leaning magazine] In These Times suggesting an article about taxing marijuana as a way to prevent the lay-off of public employees. Our movement should be reaching out to people like the public employee unions, maybe buying ads saying 'No teacher should be fired until the legislature tells us how many legal marijuana could pay for.'"
"What you can say about Emanuel and these other people is that they are political and will respond to pressure," said Sterling. "If Emanuel thought our issues were good politics, he would be standing on the ramparts, but it's not good politics because we haven't made it good politics. It's not enough to mobilize the drug reform aficionados, we have to be working with much more powerful organizations and interest groups around issues they care about. The dire situation with the economy right now and the lack of revenues for state and local governments is a tremendous opportunity for us, exactly like 1933 in that sense. What did they do then? They ended Prohibition and taxed alcohol."
Marijuana does not enjoy the same cultural favor that alcohol did, Sterling noted, but that can be overcome. "We need to frame the issue in very stark economic terms. We need to be asking who is going to teach our kids? How are we going to pay for teachers? If the state taxing marijuana is the only way to pay for teachers, should we do it? That marijuana isn't going anywhere. It's still going to be smoked, whether we tax it or not. Why don't we benefit from it?"
"Drug policy reform has its work cut out for it," said Kevin Zeese, a long-time reformer who doubts either major party is ready for fundamental change. "The best we can hope for is a little benign neglect, and that they not continue to waste law enforcement resources on medical marijuana providers in states that allow it."
Given the plateful of problems facing the incoming administration and the state of the drug reform movement, a big push on drug policy on the federal level is unlikely, Zeese argued. "We should be working locally to continue to build momentum and a real movement," he said, suggesting that "benign neglect" could come into play. "If the reform movement continues to push state and local initiatives, I think the Obama administration will stay out of those conflicts. I don't think we'll see the drug czar flying off to different states to campaign against initiatives, and that would be a good thing."
A big push for drug reform is not only unlikely, it may be unwise at this time, Zeese suggested. "The caution Obama brings to the job, and Biden and Emanuel's histories present some room for us to maneuver, but it may be best not to poke the sleeping bear with a stick. We don't want to wake up the criminal justice advocates in the federal government. Benign neglect is better than abuse. Perhaps we should just work under the radar and allow their political caution to work for us, instead of against us."
While Zeese could tick off the bad drug policy stances of some of Obama's newly-forming inner circle, he suggested that those stances were based more on political calculations than ideological enthusiasm. "As chair of the Senate Judiciary Committee, Biden aligned himself with police and prosecutors -- that is his criminal justice base, that's where the power and safety is. Emanuel was a clear architect of the crime control acts under Clinton that increased police numbers and lengthened sentences. But both these guys are essentially political animals and will take what looks like a hard line to neutralize an issue."
One area that could be an early indicator of the Obama administration's drug reform proclivities is the ongoing DEA raids against California medical marijuana providers. Obama vowed during the campaign to halt those raids. But the big news there could be that there is no news.
"We expect that Obama will keep his promise about ending the raids in California," said MPP's Mirken. "There are plenty of reasons for him to do so, including Colorado, New Mexico, Nevada, and Michigan -- all states that had gone Republican, but that he carried. Whatever else you think about Obama and his team, they can count, and it's hard for me to imagine that they think it is in their interest to continue a war against a quarter of the country, most of whom voted for him," he said.
"That doesn't have to happen in dramatic fashion, you don't have to hold a press conference, it could just be something that happens quietly," said Mirken. "It may be awhile before anyone really sees for sure that a change has occurred. And that's fine -- we don't need a press conference as long as he stops arresting patients and caregivers."
"Obama is no doubt already thinking about a second term and doesn't want to make drug policy reform an issue of conflict with Republicans," said Zeese. "He will play it safe, but there is some opportunity for us there, and I think ending the raids is one of the things he could make happen. He'd prefer not to have medical marijuana patients and advocates angry at him in places like California and Oregon."
"I think he will stop the raids," said Sterling. "I don't see how the raids are helpful to him unless the Republicans are able to gin up some anger about providers, so it would be wise to stay low-key and continue to work with state and local officials so it is not controversial at the local level. But if it becomes controversial, and the Republicans are able to make it an issue, then Obama will be against us. We need to stay under the radar on this right now."
While reformers watch to see what does and doesn't happen regarding the DEA raids -- will they just quietly vanish into that long good night? -- there is still plenty of work to do, said Sterling. "We have to build the movement. We keep seeing the same 300 people at the conferences, maybe 1,000 if you're talking about the harm reduction conferences. No one is going door to door in the black community talking about how the drug war is undermining public safety and its relationship with the police. No one is talking to the unions. We've done well on the education part of our issue, but we haven't done well in developing a political power base, and until we do that, we won't get reform."