The Islamic Republic of Iran will not execute minors for drug offenses, but will keep capital punishment for those convicted of murder. The policy change came in a judicial directive that was issued last year, but only made public last week. Iran executes more juveniles than any other country in the world, accounting for two-thirds of all underage executions worldwide, according to human rights groups.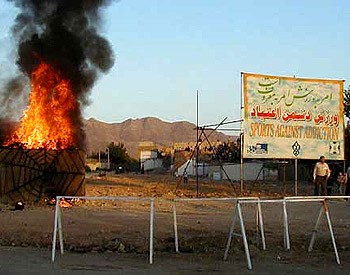 "The new directive bans execution of under 18 criminals only if they have committed crimes related to narcotics that carry death penalty," Deputy State Public Prosecutor Hossein Zabhi told the
Associated Press
[12]
. "Life imprisonment will be the punishment for juveniles convicted of first rate drug crimes," said Zabhi.
Zahbi added that no one under 18 has ever been executed for a drug offense in Iran. There are currently some 120 minors on death row there.
Iranian human rights activists welcomed the move, but said it was not sufficient. "Human rights activists won't give up the fight until execution of under 18 people is abolished altogether in Iran," said Mohammed Mostafaei, a lawyer who launched a campaign against the execution of juveniles.
Meanwhile, it is business as usual at Iranian gallows. According to the anti-death penalty group Hands Off Cain [13], four men convicted of trafficking three kilograms of heroin were hanged Monday at a prison in the southeastern city of Zahedan. Zahedan is the capital of restive Sistan-Baluchistan province bordering Pakistan and Afghanistan, which is a key transit route for drugs heading from Afghanistan to markets in Europe and the Middle East.