Sometimes no publicity is good publicity, but it's too late for that for Lincoln, Nebraska shop-owner Christian Firoz. Firoz runs Exotica, a Lincoln boutique, and back in March, as the Nebraska legislature was pondering legislation that would ban salvia (it died without a vote), Firoz was quoted in a March Lincoln Journal-Star article [13] about an up-tick in interest in the fast-acting, short-lived hallucinogen after the ban effort received local news coverage.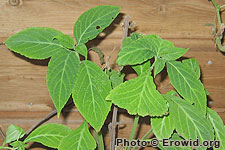 That resulted in a visit from undercover officers from the Lincoln police, who purchased salvia at the shop, then returned with arrest and search warrants. Firoz was charged not with selling salvia, but with violating a state law against selling substances "which will induce an intoxicated condition ...when the seller, offerer or deliverer knows or has reason to know that such compound is intended for use to induce such condition."
That prompted Firoz' attorney, Susan Kirchmann, to seek dismissal of the charges, arguing that the law is so vague ordinary people can't understand what is prohibited and must guess at its meaning. But the state countered that Firoz was not selling cleaning chemicals with no idea they were to be used to get high. Instead, he was knowingly selling salvia his purchasers would use to become intoxicated, they argued.
Last week, Lancaster County Judge Gale Pokorny sided with the prosecution. In a September 10 order [14], Pokorny ruled that Firoz must stand trial because he knew what he was selling.
"This judge is of the opinion that Mr. Christian Firoz knew precisely that the Salvia Divinorum he was selling was a 'substance' his purchasers were buying intended for human ingestion for the sole purpose of achieving mind altering intoxication," Pokorny wrote.
"While there may be others who potentially might be caught up in some confusing terminology contained in these two statutes, Mr. Christian Firoz does not appear to be one of them."
Firoz will go on trial for unlawfully selling a legal substance next month. He faces up to three months in jail and a $500 fine. Meanwhile, the first prosecution of anyone on salvia charges anywhere in the United States is set for next week in Bismarck, North Dakota, where at last word, Kenneth Rau [15] was set to go to trial Monday on felony salvia possession charges.