Responding to recent data suggesting that young Queenslanders are switching to ecstasy in the wake of a steep increase in the state government's tax on popular "alcopops," a leading drug researcher said the young people would be better off taking small amounts of ecstasy than going on drinking binges [17]. Unsurprisingly, the comments have attracted criticism from some quarters.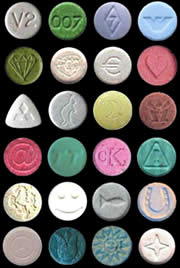 Professor Jake Najman, director of Queensland's Alcohol and Drug Research Center, said ecstasy was "a lesser evil" than binge drinking, long a popular Australian pastime. Ecstasy is "relatively benign if taken in small quantities," he said. "When young people switch from a substantial amount of alcohol to a small amount of ecstasy... I don't think that's a bad trade at all. It is not likely that one pill on a Saturday night poses the same dangers as frequent binge drinking."
Illegal drugs kill about a thousand Australians a year, but alcohol kills around 20,000. According to a 2004 government study [18], 19% of 18-to-24-year-old men and 11% of women in the same age group had engaged in binge drinking -- defined as seven drinks or more at a sitting -- at least once a week over the past year.
Ecstasy is "cheaper and safer" than excessive alcohol consumption, Najman said. "Even drug-related problems, including psychotic episodes and violent behaviour are not seen with ecstasy, as they are with amphetamines and alcohol," he said.
University of Adelaide PhD student Emily Jaehne attacked Najman's statement on two counts. She said ecstasy was often adulterated, but that is an artifact of prohibition, not a property of the drug itself. Her second count, that ecstasy causes potentially serious increases in body temperature, was stronger. "When taken at hot nightclubs or rave parties the heightened effects could lead to severe brain damage or death," Ms. Jaehne said.
But while the risk of death from using ecstasy is real, it is also infinitesimal. According to a 2004 study [19] of national death statistics, 12 people died of ecstasy-related causes in Australia between 2001 and 2004.
Still, that didn't stop Jo Baxter, director of Drug Free Australia, from calling Najman's comments "irresponsible [20]" and dangerous. "There is no guarantee that if young people hear a message of so-called 'safe use' from people in authority, that they will use only small quantities. Taking ecstasy is like Russian roulette. No one individual knows exactly what it will do to their body chemistry," she said.
"A person in Professor Najman's position and with his qualifications is showing an extraordinary lack of responsibility, if his views have been reported accurately," Baxter continued. "The other aspect is that we seriously have to question why our young people are feeling the need to take drugs in order to 'have a good time.' We need to be giving our young people reasons not to have to rely on drugs for their social events. If we can reduce the demand, the huge volumes of ecstasy now coming into Australia would have no market."
Good luck with that, Mrs. Baxter.