Even as a worldwide campaign to end the death penalty for drug offenses [12] gears up, the resort to the ultimate sanction continues apace, especially in Southeast Asia and the Middle East. According to reports compiled by the anti-death penalty group Hands Off Cain [13], this month Southeast Asia is reporting no drug executions, but it's a different story in the Middle East, especially in Iran.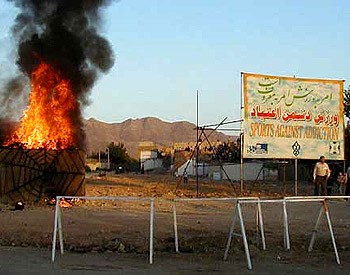 But not just Iran. On August 21, Saudi Arabia got in on the action, executing two Pakistani nationals for smuggling drugs. The pair were beheaded by the sword after they were caught smuggling heroin in the eastern city of Damman. That was the 63rd execution this year in the country, with drug offenders accounting for between a third and one half of them.
Meanwhile, in the Islamic Republic, the executioner has been busy this month. On August 7, three men convicted of drug trafficking and murder were executed in a prison in the holy city of Qom. Authorities provided no details of the murder for which they were convicted, but said they were caught with 1,080 kilograms of opium. They were identified only by first names.
Four days later, three unnamed convicted drug traffickers were hanged in a prison in the southeastern city of Zahedan. They had been caught with 30 kilos of morphine and 22 kilos of heroin.
Things got really busy last week. On August 20, two men were hanged after being convicted of drug smuggling inside a Tehran prison. One of them had been sentenced to life in 2007 for smuggling, but was upgraded after being caught doing it again while imprisoned. That same day, yet another drug trafficker was executed in Zahedan. Bahrum Nikpur was hanged after being found guilty of possessing 14 kilos of opium and six kilos of heroin. Also that same day, four people were hanged for rape and drug trafficking in an unspecified prison in Iran.
It is not clear if there were four drug trafficking rapists, whether it was rapists and drug traffickers executed together, or how many were rapists and how many were drug traffickers. All the same to anti-drug zealots, perhaps.