An all-white jury found Lima, Ohio, Police Sgt. Joe Chavalia not guilty on all counts in the January shooting death of 27-year-old Tarika Wilson during a January SWAT team raid on the home of a low-level crack cocaine dealer who was her live-in boyfriend. Wilson was shot and killed as she cowered at the door of a second-floor bedroom holding her infant child, Sincere Wilson, in her arms. The child was also hit; he had a finger amputated because of his wounds.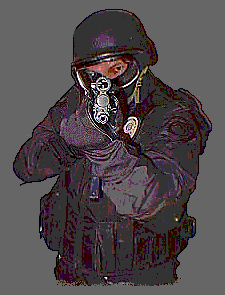 In the midst of community outrage over the killing of Wilson, whose five other children were in the bedroom behind her, Sgt. Chavalia was indicted in her death -- but only on misdemeanor charges. He faced a maximum of eight months in prison if found guilty in her killing.
During his testimony at the trial, Sergeant Chavalia said that he believed his life was in danger when he entered the home and saw a "shadowy figure" down the hallway at the same time that he heard gunshots. He then opened fire, killing Wilson. Testimony at the trial determined that the gunshots Chavalia heard were in fact fired by two other SWAT team members, who were killing a pair of pit bulls on the ground floor.
"There was absolutely, positively no doubt in my mind right then and there that whatever this was is shooting and they're trying to kill me," he told the jury.
Chavalia's attorney, Bill Kluge, waged an aggressive case, even stooping to blaming the victim for getting herself killed. Wilson had chosen to live with a drug dealer, he said, and she had failed to identify herself to the yelling intruders who broke down her door.
"Why would she put those children in that position? I don't know the answer to that," Kluge said. "Love is a strange thing."
After hearing 3 1/2 days of testimony in the case, the jury deliberated for three hours before clearing Chavalia.
"We're supposed to take this with a smile? We're supposed to believe in justice?" asked an incredulous Ivory Austin II, Wilson's half-brother, in remarks reported by the Toledo Blade [15].
"We've got to do better. We've given people the license to kill," Jason Upthegrove, president of the Lima chapter of the NAACP, said afterward.
The Rev. Arnold Manley, pastor of Pilgrim Rest Baptist Church, told the Blade he came to the trial to see justice prevail but that did not happen. "As a pastor, I'm hurt deeply that we can walk away from this and say justice has been done," he said. "How do I go out to tell the people on the streets, 'Let the law prevail'? How do I say that? White man justice. Black man grief."
Darla Kaye Jennings, grandmother of Sincere Wilson responded to Lima's "white man justice" by filing a federal civil rights lawsuit against Chavalia and the city of Lima the day after the verdict was announced. The lawsuit asks for compensation for Sincere's injuries as well as an end to "police abuse by requiring that high risk search warrant executions be limited to situations where they are truly needed and where the least amount of force necessary to the situation is employed."
According to the lawsuit, the shooting that led to Wilson's death and her son's injuries was "excessive, unreasonable, and completely unnecessary." The lawsuit further said that Sergeant Chavalia acted "negligently" when he used deadly force.
Another killer cop has walked. But perhaps the city of Lima will learn a hard lesson when it is forced to pay for its misdeeds.